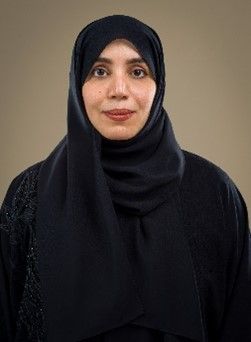 Dr Najwa Alhosani
Vice Dean
,
College of Education- UAE University
United Arab Emirates
Dr. Najwa M. Alhosani is a university associate professor in Curriculum and Instruction. She is currently the Acting Dean at the College of Education at United Arab Emirates University. Dr. Alhosani received her Master and Ph.D. degrees in Curriculum and Instruction from Kansas State University, USA. She is a Board of Trustees member at Sharjah Education Academy, Board of Trustees member at Rabdan Academy, Board of Trustees member at Emirates College for Advanced Education, Board of Trustees member at the Arabic Center for Educational Research for Gulf Council Counties, Kuwait, Board member, Zayed House for Islamic Culture, Member, Advisory Council, Arab Bureau of Education for the Gulf States, KSA. Dr. Alhosani is a founder member of Fatima Bint Mubarak Motherhood and Childhood Research Center. She managed to bring in funds from external stakeholders to lift up the college research capability and capacity. Alhosani successfully connected the College of Education with several local and international educational institutions which resulted in establishing several MoUs and initiating new academic programs. Under Dr. Alhosani's leadership, the College of Education has obtained the FULL international accreditation (7 years) from The Council of Accreditation for Educator Preparation (CAEP) in the USA. Dr. Alhosani has headed several committees inside and outside the university. She has executed and moderated numerous workshops, training courses, forums and symposia at different educational organizations. She participated in several local and international conferences and conventions. She has conducted a number of academic studies and written research papers. She has been a host, a guest, and a speaker on many television programs. Dr. Alhosani was a member of the Emirati Women Leaders Delegation to Washington, DC meeting their USA Women counterpart at the White House and US Congress. Dr. Alhosani won several awards such as: - Excellence in Service Award, UAEU, 2021. - First Class, Chancellor's Award for Leadership Medal, UAEU, 2020. - Rashid Award for Scientific Outstanding, 2008. - Academic Excellence Award, UAE Embassy, Washington, 2008.