Mighty Writer Ltd
Stand: ED-D66
Classroom Resources
Special Educational Needs
Curriculum improvement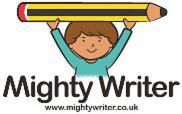 Winner of the Education Resources Awards,Teach Primary Awards and Teach Early Years Awards for Best Primary Resource in the country.......and probably the planet!
Mighty Writer is guaranteed to transform children's literacy, almost overnight. It teaches the whole process of learning to write from speaking in simple sentences through to planning and editing increasingly complex and sophisticated stories. Its core age range is for 4-7 years, however it can be used with children of all abilities from those who are reluctant to speak to the very able. It teaches fictional and non-fictional writing and enables children to become independent and competent writers.It's in nearly 1000 schools in 40 countries.
Short video show how Mighty Writer transforms literacy!