MakeKit AS
Stand: NQ41
Arts, Craft and Consumables
Coding
Learning Materials
Africa
Asia
Australia
Europe
Middle East
North America
South America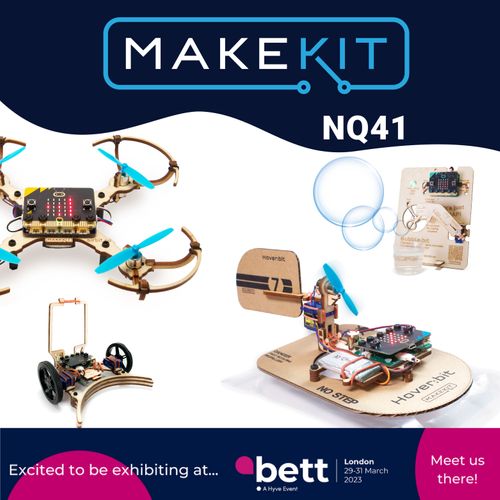 Give students an experience they'll remember!
The most engaging educational tools powered by micro:bit and WonderKit for STEM and STEAM subjects.
With micro:bit powered drones, hovercrafts, cars and soap bubble robots, students get hands-on experience with 21. century skills.
Makerfriendly DIY projects with lesson plans and teacher guidance for 4. to 10. grade. Easy to start with for both teachers and students, in addition to a wide range of possibilities for advanced students.
Give your students a relevant education with deeper knowledge and understanding of core subjects, technology and practical skills with the MakeKit educational tools. MakeKit gives your students a sense of mastery and self-confidence.
Learn to use maker space tools like a 3D printer, laser- and vinyl-cutters.
Choose between block programming, JavaScript or Python.
Learn about electronics and connecting; motors, batteries, servos and LEDs.
Explore your own creativity by developing your own design, art and construction.