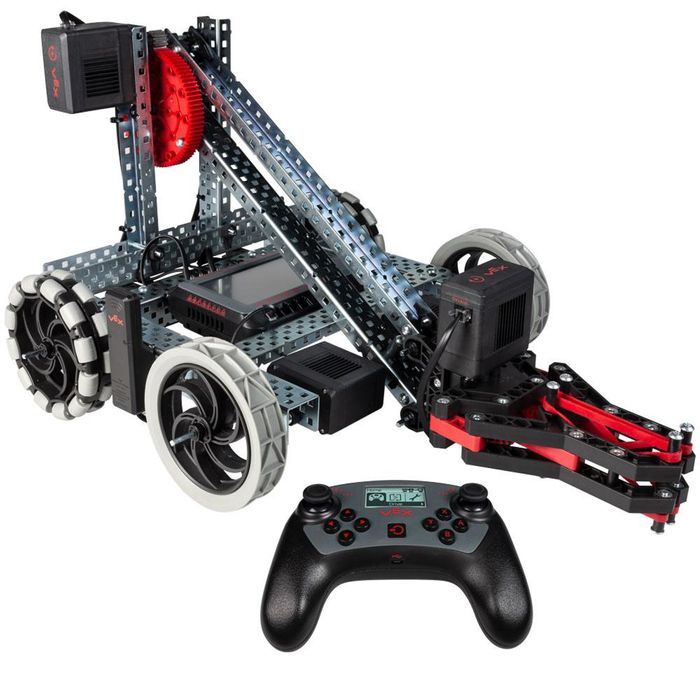 VEX V5 kits cater for all skill levels and budgets, from entry-level starter kits to all-encompassing Competition Super Kits that contain everything needed to make a competitive robot.
VEX V5 is based around a powerful programmable Brain with a powerful processor, 4.25" colour touch screen and 21 smart ports which make connecting motors and sensors easy. The Brain is paired with a gaming style remote control which has numerous analogue and digital inputs and well as it's own LCD for feeding data back to the operator and rumble feature.
The powerful V5 motors contain precise integrated encoders for precise movement and control as well as having interchangable gear cartridges to quickly change the maximum speed and torque for different applications.
Sensors include a Vision Sensor, Rotational Sensors, Intertial Sensor, Optical Sensor, Laser Distance Sensor and more.
Structural parts are made from durable steel or aluminium and are assembled using nuts and bolts making VEX V5 a real world engineering solution.
V5 can be programmed using various languages. VEXcode 2.0 incorporates Scratch Blocks, Python and C++ into the same interface meaning the complexity can increase along with your students ability. VEXcode Pro provides an authentic programming experience as students become more experienced programmers. Using the Monaco code editor and C++, students will use the same tools and programming languages that professionals use every day.
Categories
Hardware
Educational/Instructional Software
Coding
Robotics
Learning Materials