31 May 2021
TechnoRestaurateur - Project Based Learning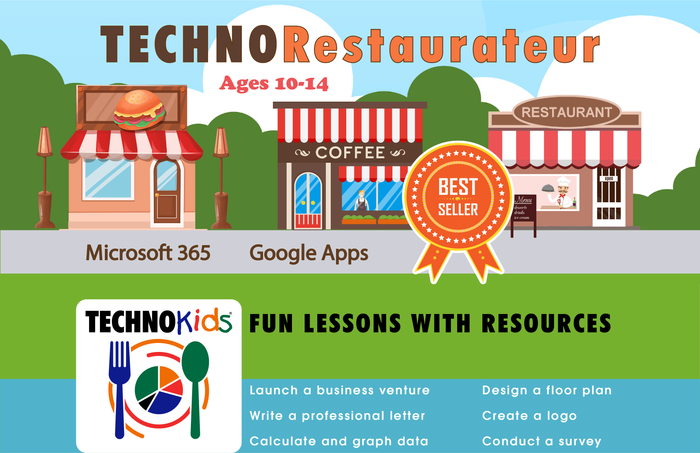 TechnoRestaurateur includes a Teacher Guide, Student Workbook, and Resources including templates, samples, and assessment tools.
Step-by-step illustrated instructions guide students through launching a business venture.
Whether teaching a digital literacy course, financial literacy, business studies, or entrepreneurship, TechnoRestaurateur is the ideal addition to your curriculum.
It is easy to get started...
Download the technology project from our online library, TechnoHub.
Upload the resources to your school's Learning Management System. For example, you can create an assignment in Google Classroom.
---
ABOUT TECHNORESTAURATEUR:
Assignment 1: Become a Restaurateur - Consider how technology can help launch a restaurant venture.
Assignment 2: Learn Basic Spreadsheet Skills - Explore spreadsheets to understand terminology and acquire basic skills.
Assignment 3: Conduct a Survey of Food Preferences - Investigate cuisine favorites by administering a survey to respondents.
Assignment 4: Record Survey Results in a Spreadsheet - Arrange survey results in a worksheet. Format the data to make it easy to read.
Assignment 5: Graph Survey Results as a Pie Chart - Convert survey results into a pie chart. Customize the legend, labels, and chart style.
Assignment 6: Develop Idea from Survey Results - Interpret the meaning of the survey findings to develop a business concept based on evidence.
Assignment 7: Create a Company Logo - Draw a logo that symbolizes the company. Combine shapes to illustrate an original image.
Assignment 8: Write a Professional Letter - Request seed money for the restaurant. Convince investors that the concept will succeed.
Assignment 9: Draft a Floor Plan - Sketch a floor plan for the restaurant that meets the needs of staff and patrons.
Assignment 10: Calculate Monthly Restaurant Earnings - Total monthly profits. Analyze earnings to devise a business strategy.
Assignment 11: Calculate Quarterly Restaurant Earnings - Measure the financial health of the business. Calculate quarterly and average earnings.
Assignment 12: Graph Quarterly Earnings as a Line Chart - Plot quarterly earnings using a line graph. Predict future profits using a trend line.
Assignment 13: Design a Business Newsletter - Advertise the restaurant as an investment opportunity. Inform entrepreneurs about the benefits.
Optional Entrepreneurship Lesson Plans for Middle School Students
Use Functions to Analyze Earnings: Use SUM, AVERAGE, MIN, MAX, and COUNT functions.
Advertise a Deal: Inform customers using an animated bulletin board.
Use Google Forms or Excel Survey to Rate Opinion: Measure customer satisfaction with a rating scale grid.
Categories
E-Books
Publishers
Learning Materials
Classroom Resources
Publishing