Teacherfolio Recruitment Tool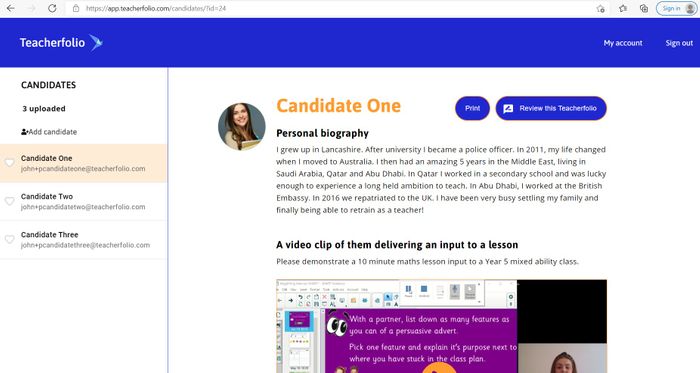 With a blend of cutting edge technology and an empathetic human touch, Teacherfolio offers a bespoke recruitment service to ensure school leaders recruit the teacher that is the best-fit for their school in a time- and cost-effective manner.
School leaders can select bespoke digital content (including videos) that they would like to see from their candidates and ask referees bespoke questions.
The interactive Teacherfolio dashboard allows school leaders to remotely and collaboratively rank, rate and review their candidates' digital portfolios.
Improve candidate attraction
Continue to advertise through your preferred provider or with one of our partners to maximise the quantity, quality and diversity of your candidates.
Increase candidate insight
Make more informed decisions when shortlisting by reviewing bespoke digital content, including videos and images, from your candidates.
Save time
Select the content that you'd like to see in a few clicks and work efficiently, remotely and collaboratively with your team to review your candidates.
Improve staff retention
Recruit the candidate that not only has the experience and skillset to fulfil the role but also the personality to thrive in your school environment
Made by school leaders for school leaders
The service is powered by our resident school leaders, whose feet on the ground allow them to relate to and solve your teacher recruitment problems.
Categories
Recruitment
Connectivity & Communication solutions
Professional Services