08 Dec 2021
Scottie Go! EDU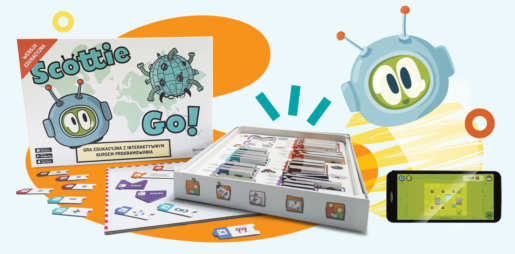 For teachers conducting programming classes with our game, we have prepared full lesson scenarios, covering all grades of the target group. All assignments allow students to acquire the basic skills necessary to learn programming languages.
The Teacher's Guide and Students' Report Cards can be downloaded after entering the license key.
Scottie Go! Edu is an educational game which can help your pupils develop very important skills and competences such as: analytical as well as logical thinking; algorithmic reasoning; presenting their thoughts and ideas; proper work planning and work organisation; teamwork and effective project development. Using gamification in education helps kids to gain knowledge in a friendly and interesting way. The game features a friendly alien called Scottie, whose spaceship breaks down and crash lands on Earth. Learners will need to help Scottie to collect replacement parts for his spaceship by programming the actions of the game characters.
Scottie Go! Edu coding for kids, features hours of fun and learning by solving challenges and quests that require creativity to allow Scottie to fix his spaceship and return home.
Categories
Coding
Distance Learning
Educational/Instructional Software