08 Dec 2021
Scottie Go! BASIC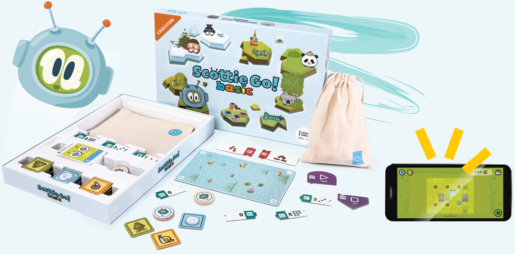 We specialise in coding toys to help kids develop their algorithmic intuition and learn fundamentals of programming, according to the latest developments in teaching methodologies.
The game was created in cooperation with experienced teachers and educators.
Kids may start learning coding in elementary school, but with our game they can already do so in kindergarten. The concept of the game is friendly for kids, helpful to the teacher, and covers the following educational topics: use pictograms to represent algorithms; develop mathematical reasoning; create thematic elements of the game; teamwork under supervision of the teacher.
Our game which helps teaching coding for kindergarten kids features a friendly alien called Scottie, whose spaceship breaks down and crash lands on Earth. Kids will need to help Scottie to collect replacement parts for his spaceship by programming the actions of the game characters.
Scottie Go! Basic features hours of fun and learning by solving challenges and quests that require creativity to allow Scottie to fix his spaceship and return home.
Categories
Coding
Distance Learning
Educational/Instructional Software