SchoolBusNET platform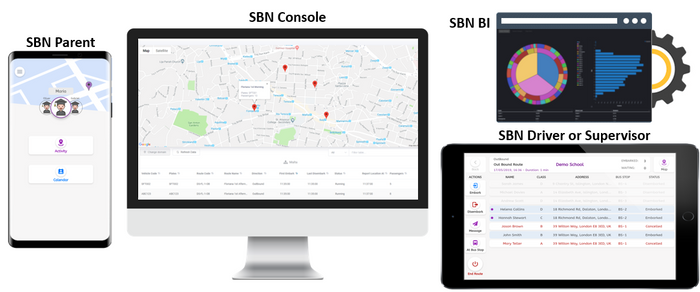 SchoolBusNET platform for detailed management of Students Transportation. Proven excellent performance used at schools, Cities and whole Countries, providing unique functionality and excellent support.
Includes in-build Route Optimisation, allocation, and management of resources and staff, individual schedules for each passenger, monitors operations and provides enterprise-level BI reports.
SBN actively involves Parents allowing them to control their schedule and submit changes.
Real-time monitoring, notifications and alerts, flexible zone design and professional reporting on every detail (detailed control of multiple domain levels, heat maps, billing and cost details, contractor's performance, efficiency metrics, etc) is a single unique tool to manage every aspect of Student transportation.
It's designed to handle, combine and monitor large operations, involving hundreds of schools, hundreds of providers, thousands of employees, and any individual complexity in the way of working.
SchoolbusNET is technologically advanced, all-around improvement amplifier in student safety, quality of services, cost reduction and every stakeholder's satisfaction.
Categories
School Visits & Trips
Transport
Managing Information Systems