QTrobot for Schools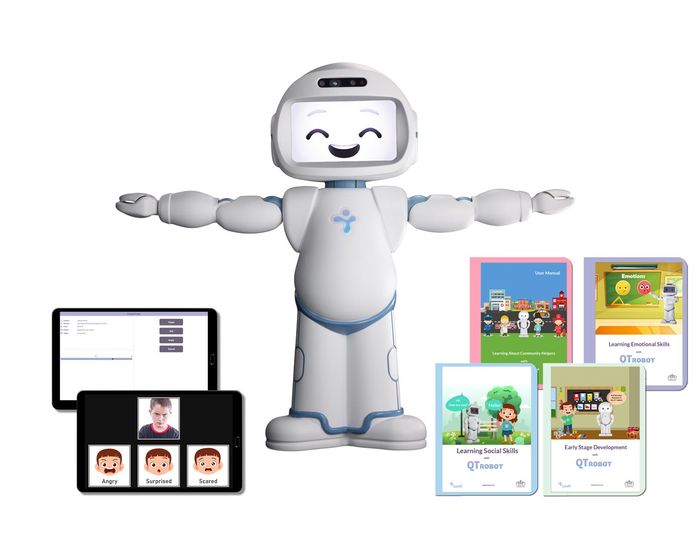 The QTrobot for School bundle includes the QTrobot teaching device and yearly software license subscriptions. The bundle includes:
QTrobot Device for Schools,
2 Tablets: Tablets come with pre-installed apps for

1) Teacher: to run the educational sessions and control the QTrobot during the sessions
2) learner: to receive visual stimuli and support and to play image-based games with QTrobot as part of the educational sessions

Autism Content: The LuxAI Default Curriculum Bundle includes more than 200 teaching units for different developmental stages! The curricula included in the subscription are:

Emotional Skills Curriculum, including units on emotion recognition, imitation, generation, labelling, understanding and emotion regulation,
Early-stage Development on cognitive, social, receptive and expressive language targeting up to 4 years of the developmental milestone,
Community Helpers Curriculum with interactive units on different levels to teach children about the people working in our community.

Content Store: The QTrobot curriculum store provides access to additional curriculums you can subscribe to.
Analytics Dashboard: A dashboard with real-time insights into the children' educational activities with QTrobot, offering a comprehensive overview of the achieved learning goals for up to 5 teacher profile and 20 child profiles
LuxAI Studio: The user-friendly content creation environment of QTrobot with 250 MB cloud storage and up to 250MB upload/download per month
Implementation Support including:

Kick-off call for a quick start with QTrobot
Follow-up meetings with LuxAI special need education team to answer your questions and support you to benefit the most from using QTrobot
Additional support to answer all your questions through support@luxai.com

Warranty:

1 year with an option to extend by a further 1 or 2 years.
LuxAI S.A. warrants that your QTrobot will be free from defects of materials or workmanship under normal use and service for a duration of 1 year after initial delivery date. During the warranty period, you will not be charged for the repair or replacement of defective parts.
In case of the warranty service, you can send your QTrobot to us and we will send it back to you repaired at no expense.
Categories
Special Educational Needs
Educational/Instructional Software
Robotics