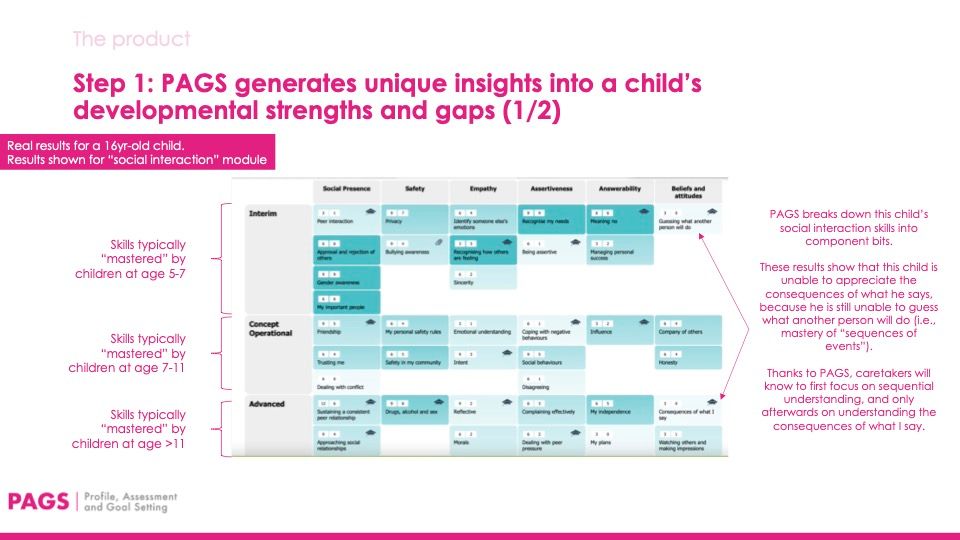 Parents, teachers and/or professionals can fill out PAGS's proprietary assessment (composed of 4 questionnaires) to evaluate the developmental capabilities of a child. This evaluation is both holistic and detailed, with questionnaires that evaluate the child across 4 key areas of development: cognition, communication, social interaction, and self- regulation. The resulting profile is presented in an intuitive and visual way, so that anyone -- regardless of their SEN expertise -- is able to understand the strengths and gaps of the child.
PAGS then uses the child's unique profile to provide intelligent and automated support to each stakeholder. For example, the tool helps caregivers to select relevant learning objectives and to find appropriate exercises/teaching strategies.
Lastly, by being cloud-based, PAGS is a tool that finally brings all these stakeholders together around a single source of truth.
Categories
Special Educational Needs
Government
Achievement Monitoring
Assessment services
Curriculum improvement
Educational/Instructional Software
Learning Materials
Connectivity & Communication solutions