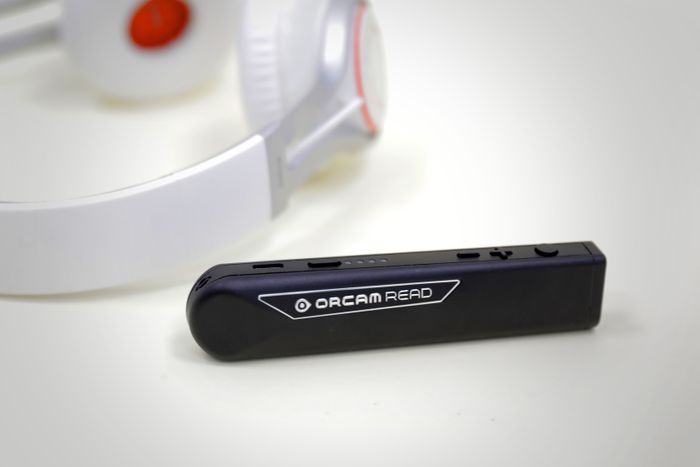 OrCam Read, Transform the Way You Read
For people with mild low vision, reading fatigue, reading difficulties including dyslexia, and for anyone who consumes large amounts of text. OrCam Read is a first-of-its-kind handheld device with a smart camera that seamlessly reads text from any printed surface or digital screen. Enjoy the morning paper, read any book, and even read all that appears on your computer or smartphone screen.
There are numerous reasons why the OrCam Read is the best choice of reader pens available for Dyslexia, but we'll start with eight. Here's a peek into some of the revolutionary features that no other reader pen offers, separating the OrCam Read from anything else available in the reader pen market:
OrCam Read can read a full page at once – This may not seem like a big deal for people who don't know what the other available solutions have to offer, but in comparison to competitor products, the OrCam Read is the only reader pen that can read an entire page all at once. All other reading devices require scrolling line by line throughout the entire page. With OrCam Read, all you need to do is simply point at any printed page or digital screen and click the reading button and the full text is scanned.
Laser capture focuses on specific segments of text – If you want to just read
part of the page such as a paragraph or specific section, you can press a button on the OrCam Read that will activate the laser, displaying a red square border on any page or screen. This allows users to select only a certain part of the page to be read to them.
Portable & handheld – The device is wireless–no cord is connected while using it. Just slip it in to your pocket, handbag, school bag, or briefcase and be on your way untethered.
Read at your own speed – Not everyone reads at the same pace. Additionally, every text has different levels of importance. One might want to read newspapers or books more quickly than bank statements or electric bills. For the more important pieces of literature, it is possible to slow down the reading speed of the device.
No internet connection required – Gone are the days of searching for WiFi! With the new OrCam Read, users will not be limited to using their device only when they have an internet connection.
Bluetooth – The whole supermarket does not have to hear you reading the Nutrition Facts on that box of cookies! With OrCam Read's Bluetooth compatibility feature, connect your earphones to the device so that only you can hear everything read back audibly. You can also connect traditional plug-in headphones.
No installation process – Don't waste time configuring the device to your desktop or smartphone. Just open the box, turn it on, and begin reading.
Intuitive user experience – OrCam Read is by far one of the easiest reader pens for dyslexia you will ever use. Simply point and click. That's it.