15 Dec 2021
Multi-Academy Trusts, Clusters and School Groups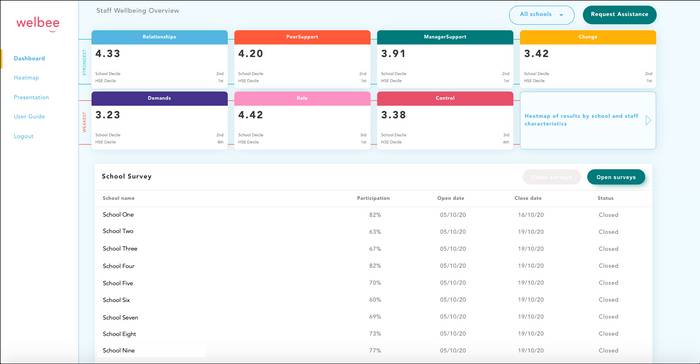 Use Welbee Survey with every school in your MAT or work together with other local schools to focus on areas that will positively impact each school and the wellbeing of staff, based on their anonymous feedback…
Each school can pinpoint what is happening now through their own dashboard, so they can easily see where improvements need to be made.
Schools can anonymously address concerns, seek further feedback, ask for ideas, and engage staff in creating solutions.
The MAT or Group dashboard heatmaps enable you at a glance to quickly see scores across all schools, six job roles and other staff characteristics, so you can compare, share best practice and target action where it is needed most.
The MAT and each school can benchmark scores against other schools and use the Health and Safety Executive's (HSE) own benchmarks to compare to cross-sector organisations.
You can focus on systematically making improvements where they will have the biggest impact for your schools and MAT, Cluster or Group.
welbee.co.uk
Categories
Health and Wellbeing
Connectivity & Communication solutions
Leadership & Management