Joey Charging Cart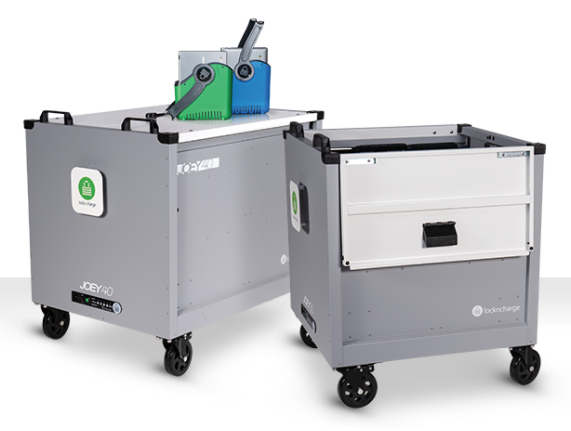 Key Features of the Joey Cart:
Top-Loading Cart Design - The lid folds all the way down to the sides of the Cart, allowing for unrestricted access to devices from all four sides making hand-out and pack-up even quicker. Plus, there's no bending down to remove devices from a bottom shelf.

Baskets by LocknCharge - Slotted device Baskets by LocknCharge make device deployments faster, safer and more efficient, putting valuable time back into your day.

Organized Cables and Hidden Bricks - Our "tool box" design stores bricks in a removable tray for ultra-easy access to bricks, cords, and cables without needing to reach into the Cart. Cords stay even more organized in the side cable channels that secure those gosh darn cables once and for all.

External Charging Status Display - Most of us don't have x-ray vision–but with our Joey Carts, it's super easy to know the charging status of your devices through the external ECO Safe Charge™ display.

Future Proof Design - Think inside the box, and you won't be stuck with a bunch of outdated Carts. Removable racks and Baskets allow this Cart to adapt to future needs as devices change or new technology is added. Looking to charge 36 devices? No worries, the Joey 40 Cart will accommodate 36 devices today and allow room for 4 additional devices in the future. Plan ahead today, and save money for tomorrow.

Lifetime Product Warranty and Access to World-Class Customer Support
Visit https://www.lockncharge.com/eu/products/joey-carts/ for full product details, videos, and images!
Categories
Hardware
IT Services
Data Management & Storage
Classroom Resources
Equipment Furniture