19 Jan 2021
Root® Pro rt1 Coding Robot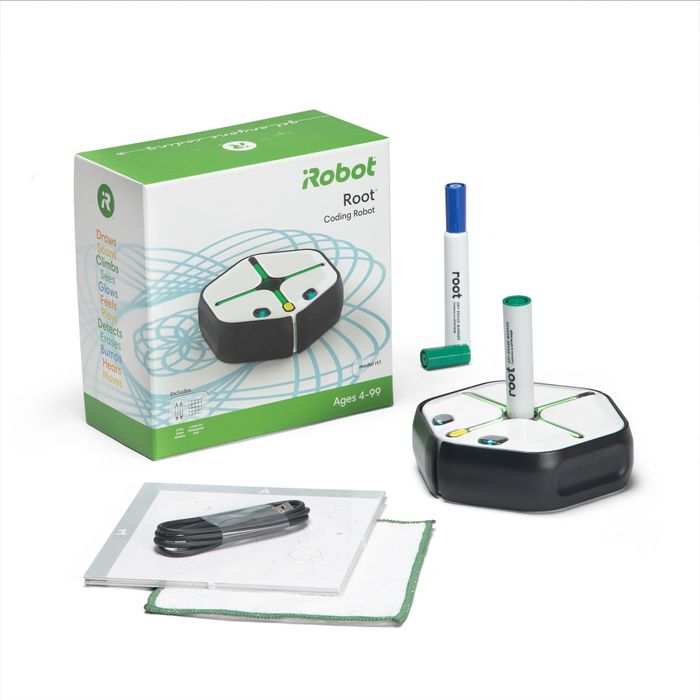 Powered by iRobot® Coding, the Root® Pro rt1 robot harnesses the versatility of auto-level conversion to translate code between 3 Learning Levels and advance alongside learners, no matter their skill-level.
The Root® Pro rt1 Coding Robot is compatible with devices running most major, up-to-date operating systems, including Android, Chrome OS, Windows, iOS, and macOS. Users may access the iRobot® Coding platform at code.irobot.com or through the iOS Root Coding app.
In order to connect to the Root® coding robot using the iRobot® Coding platform, your device requires Bluetooth Low Energy (BLE) and a supported browser such as Chrome or Edge. If using the Root Coding App, please ensure your device is running iOS 10 or higher.
Please visit our learning library at https://edu.irobot.com/learning-library for hours of coding and STEM activities.
Each unit includes:
Root® coding robot
Foldout whiteboard
Vinyl cling sheets
USB charging cable
2 Dry erase markers
1 Dry erase cloth
The Level 1 Curriculum Guide contains lessons and projects that are printable and designed to be used as cards or handouts.
Intro to Coding
Touch Interaction
Drawing with Root®
Loops & Patterns
Wheel Speeds
Color Sensing
Sensing & Responding
For a complete list of our authorized Root partners and distributors by region, please visit https://edu.irobot.com/partners/find-a-partner.
If you are interested in becoming an authorized partner, please visit https://edu.irobot.com/partners/become-a-partner.
Categories
Classroom Resources
Distributor/Reseller
Hardware
Apps
Coding
Distance Learning
Educational/Instructional Software
Learning Materials
Robotics
Professional Services