EnViRo Simulation Software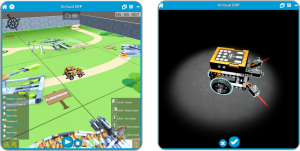 Engino Virtual Robotics, EnViRo, is an
innovative tool that enables robots to run
into a simulated 3D world! Students can
choose a model from the library and use it
on any of the challenging environments.
They can test their code and optimize, as if
in a real-world environment!
Categories
Coding
Educational/Instructional Software
Learning Materials
Robotics