Endoxa Learning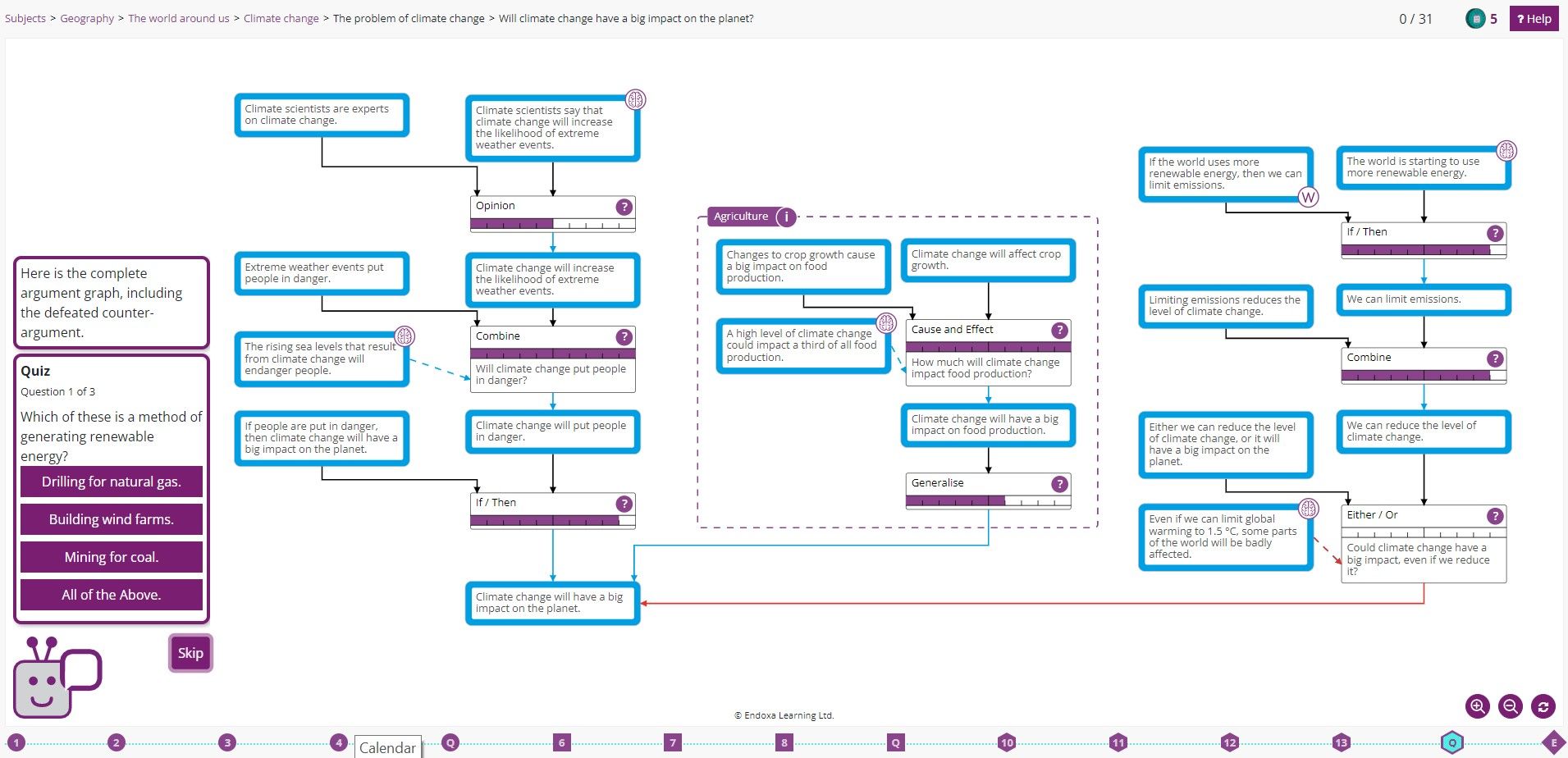 Critical thinking is an important skill at school, in the workplace and in our lives. However, studies show that students struggle to improve their critical thinking skills at school and at university, despite the increasing importance of good arguments in assessments.
Examiners report poor arguments as a common way that students lose marks in their exams. Our research has found that students struggle with losing track of the argument, poor planning and including irrelevant information, because they do not know how to build a strong argument.
Endoxa Learning uses diagrams called argument graphs to represent arguments. Visualising the argument makes it quicker and easier to understand, based on the theory of dual coding. When pupils see the argument laid out as a diagram, they can more easily understand and retain the information on it. This sets Endoxa Learning apart from traditional textbook resources.
Each subject is divided into topics and lessons that cover the specification, allowing our lessons to be integrated into teaching plans. By making arguments easier to understand, our lessons are great for non-specialist teachers as well as for subject experts.
Lessons are split into three sections: core arguments, additional arguments and counter-arguments. This means that teachers can adapt the lesson to fit their lesson timings. They can use the core argument to introduce a topic briefly, or run through the full lesson to introduce the class to counter-arguments and essay-writing. Students have the opportunity to make notes and complete tasks throughout the lesson, before adding their own ideas in "edit mode".
Breaking down the argument:
The argument is broken into clear argument steps, which are viewed step by step as the lesson progresses.
Argument steps have a clear format that helps pupils to recognise key aspects: Premises, conclusions and evidence statements.
Argument steps are classified using argument types, which are based on recognised theories about critical thinking.
Facts and case studies are found throughout the argument graph.
Our evaluation system calculates the strength of each argument step and evaluates the pupil's edits.
Our lessons are available for a range of A Level and KS3 subjects. We are currently testing content with GCSE classes and developing content for Further Education and Higher Education. Our system stays the same for each key stage and subject, making Endoxa Learning easy to use in lessons across the school or college.
Categories
Curriculum improvement
Educational/Instructional Software
Learning Materials