Dot Com Digital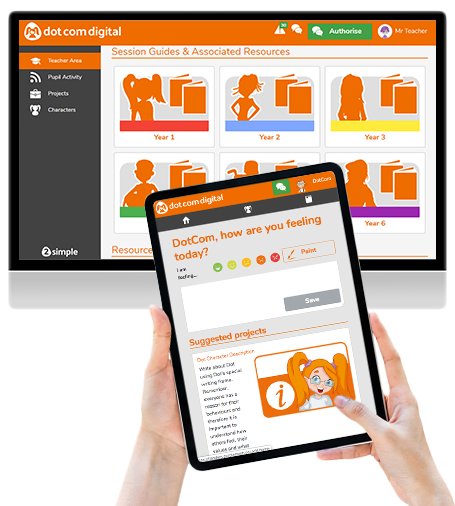 Dot Com Digital educates children to help prevent them becoming victims of crime.
This resource is an enhanced digital version of the Dot Com safeguarding programme which has been developed by children with the Essex Police, The National Police Chief Council, Internet Intelligence and Investigations and Safeguarding leads.
The free version includes themes, such as; Emergency Services, Knife Crime, Grooming and County Lines. Schools can then upgrade to a paid licence if they wish to do so. This will enable a school to fulfil a rich PSHE curriculum across all years.
Key features
Dot Com or 'Dot' is a cartoon friend to children that talks to them in their own language and helps them learn how to speak up about issues which frighten or worry them.
Supports the new statutory Relationships and Sex Education Guidance as well as being cited in DFE Online Safety Guidance as a tool to prevent online harm.
Children can ask for a 'Dot Minute' if they're feeling worried or afraid by something.
Provides a mechanism for working with external agencies such as social services, emergency services and third sector organisations.
To find out more about Dot Com Digital visit 2simple.com/wellbeing/dot-com-digital/
Categories
Health and Wellbeing
Safeguarding
Educational/Instructional Software