Diplomat™ UV-C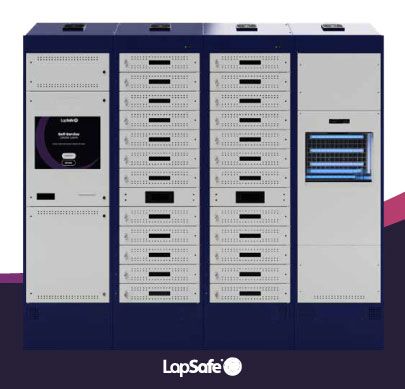 As we attempt to get back to some level of normality during these unprecedented times, LapSafe® has designed and developed a solution to keep your devices Covid safe and in operation.
We have listened to our customers who currently use our self-service laptop loan lockers and trolleys to loan or store their laptops, Chromebooks and tablets.
Our semi-automated UV-C sanitising unit will sanitise your laptop or tablet in around 15-20 seconds. 99% of bacteria and some viruses* are inactivated when exposed to high-intensity UV-C light. Fitted with Phillips UV-C bulbs, you can have confidence that Diplomat™ UV-C can help in your protection strategy.
*In laboratory testing, our UV-C light sources inactivated 99% of SARS-CoV-2 virus on a surface with an exposure time of 6 seconds. Source www.phillips.com
---
Visit our website for more information or please get in touch
lapsafe.com/products/diplomat/uv-c
Categories
Hardware
IT Services
Equipment Furniture
Health and Wellbeing