Digital Signage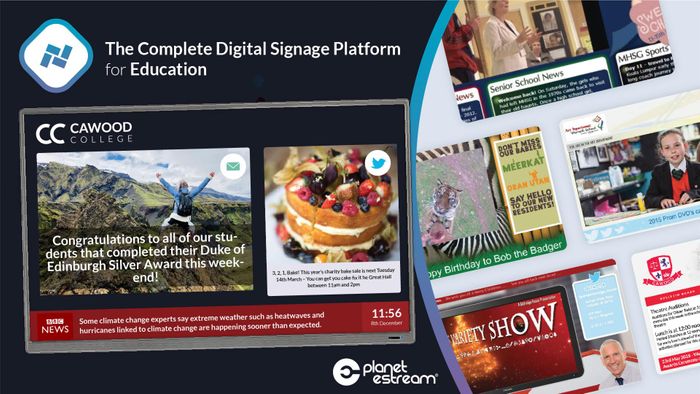 Planet eStream is the chosen platform for over 2,000 educational organisations globally, delivering sophisticated management tools and a simple drag-and-drop, multi-panel screen designer.
Highlights include...
Create Engaging Screen Designs and Display Multiple Items Simultaneously
Unlimited Screen Licence
Plan Ahead by Creating Either Ad-hoc or Recurring Schedules
Advanced, Centralised Digital Asset Management System Enabling Users to Create, Edit and Organise Digital Signage Assets Centrally
Create Multiple Message Boards for Different Areas Within Your Organisation and Easily Control Who Can Update Content
New for 2022 - Event Triggers!
Set up triggers for fire alarms, air quality sensors, temperature monitoring, intruder alerts and more to push critical communications across your signage displays.
Categories
Distance Learning
Educational/Instructional Software
Learning Management Systems
Learning Materials
Connectivity & Communication solutions