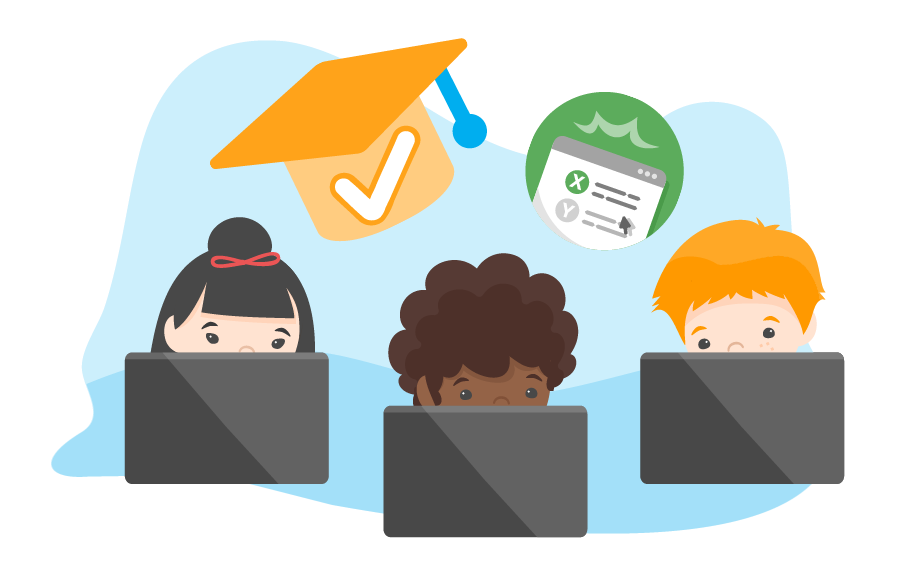 Test knowledge easily, safely and quickly​
Get exam-ready in 10 seconds, ensure pure results and improve focus and learning outcomes in your classroom. Discover COOL Check!
---
Exam-ready in 10 seconds
Testing knowledge with COOL Check saves time: Scheduling, supervising, grading and archiving all happen directly within the app. Plus, setting up a test or exam takes just 10 seconds! Teachers simply choose the date, time and duration, add the test and share it with their class or specific students: Check! No more physically handing out and collecting big stacks of paper, but starting and finishing tests with the click of a button.
Digital testing, the easy way
COOL Check makes the IT part of digital testing easy for teachers. Enabling additional resources like a dictionary or calculator is straightforward. Test content itself is created directly within the app or added with a URL. That means Google or Microsoft Forms quizzes, third-party tests and even high-stakes standardized exams can be easily and securely set up – without help from the IT department!
A secure testing environment
COOL Check delivers test results you can rely on. Within the secure exam environment, students can only access apps, documents and URLs enabled by their teacher. No chatting, no googling, no screenshots. This keeps everyone focused, delivers pure exam results and puts control back in the teacher's hands. With the Monitoring function, teachers can view live exam progress and provide targeted guidance.
Easy digital testing
Secure and 100% fair
Exam-ready in 10 seconds
COOL Platform
COOL Check is a premium module of the COOL Platform. A free online learning platform that gives teachers and students access to all relevant applications with 1 login. Try the full COOL classroom suite for 60 days for free!
Check it out: https://www.cloudwise.cool/product/exam-app/
Categories
Achievement Monitoring
Assessment services
Distance Learning
Educational/Instructional Software
Learning Management Systems
VLE - Virtual Learning Environments