Carrier 10 Charging Station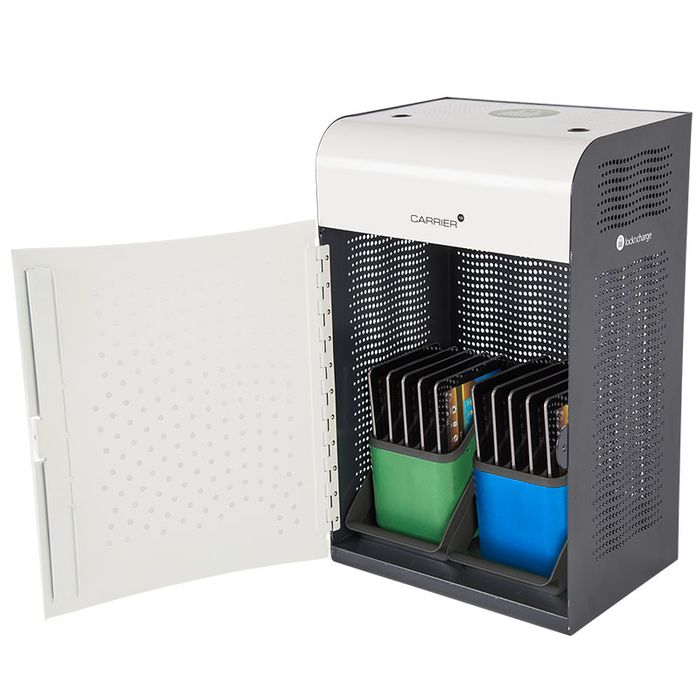 Key Features of the Carrier 10 Charging Station:
Wall or Desk Mountable - The Carrier 10 is designed to adapt to your surroundings. Transform any wall or counter into a secure area for charging mobile devices while taking up only minimal space.

Baskets by LocknCharge - Slotted device Baskets by LocknCharge make device deployments faster, safer and more efficient.

Organized Cables and Hidden Bricks - Minimize cord chaos by keeping those gosh darn cables secure once and for all. Cables stay organized in the unique top channel, allowing you to plug in devices quickly after each use. Power bricks are stored in a separate compartment, making sure they don't sprout legs and wander off.

Easy Cable Management - LocknCharge cable management has been simplified so that you can wire an entire Charging Station in minutes. Save time with set up and gain time using your Charging Station.

Future Proof Design - Think inside the box, and you won't be stuck with a bunch of outdated charging stations. Removable racks and Baskets allow this station to adapt to future needs as devices change or new technology is added.
For full product details, visit https://www.lockncharge.com/eu/products/carrier-charging-stations/
Categories
Hardware
IT Services
Data Management & Storage
Classroom Resources
Equipment Furniture