BUDDY, THE EDUCATIONAL ROBOT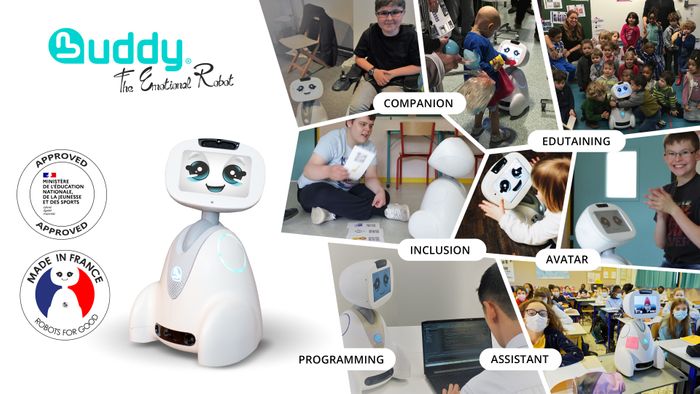 ENGAGING PEDAGOGICAL RESOURCE
Usable from kindergarten, Buddy allows the teacher to start fun activities around programming. It is also an advanced development platform for application projects in higher education
Buddy is also the partner of the most vulnerable children that encourages the inclusion of students who are unable to attend class and which supports as well the education of children with behavioral and autism spectrum disorders. Finally, Buddy is also the teacher's assistant who will be able to integrate specific content relating to his educational program and the life of his class.
REMOTE CLASS ATTENDANCE
From their hospital room or from home, sick children can teleport to their classroom. Buddy is the avatar of the child, so it becomes his eyes, ears and voice to allow him to attend classes and continue to share relationships with his classmates. The robot thus takes the place of the child in the class who controls it remotely.
THERAPEUTIC TOOL
Buddy helps autistic children to communicate and interact with others. Beyond being a simple reinforcer like some digital tools, it brings real added value by offering fun and educational interactive activities: vocal imitation, role-playing, mediation.
Categories
Special Educational Needs
Distance Learning
Robotics