Bromcom for MATs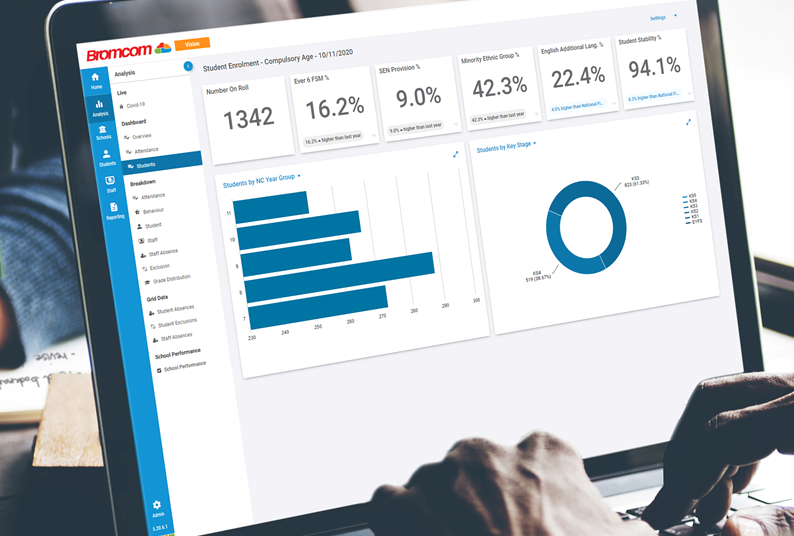 Multi Academy Trusts often have a unique set of requirements which can vary from one Trust to another. However, there is always a desire to build upon the successes of the schools within the group, encourage collaboration and to benefit from shared knowledge, resources and buying power.
So where does an MIS fit into this ethos?
To build upon success, we need to see a clear divide in performance before acknowledging that different practices are proven methods. Bromcom's solution for MATs includes a cloud-based central analysis platform called Vision. The information from all of your schools is consolidated into a huge dataset, allowing school leaders to compare performance on everything from attendance, behaviour and Staff absence, to Assessment, Exam results and pupil demographics.
Our dashboards indicate trends so staff can act on dips in attendance or peaks in behaviour incidents before they become a historical statistic. They allow for comparisons across the MAT, but also nationally through our data sharing agreement. Trust leaders can benchmark performance of the entire MAT, set targets and evaluate progress.
Centralised Management
Vision includes a wide range of tools to aid standardisation and the sharing of practices within the Trust. To ensure that innovation isn't stifled, MATs can control what is changeable at school level and how that links back to top level reporting categories.
Shared Resources
Bromcom allows you to utilise staff expertise across the entirety of the Trust, for instance a staff member can be responsible for attendance across the group, accessing MAT wide data at the click of a button and being able to drill right down to the individual students.
Wider Curriculum
Our Virtual School solution allows multiple schools and education providers to form partnerships and share the services they offer. Providers can come together to increase the opportunities available to their students through joint courses, widening the breadth of curriculum whilst keeping costs down.
Maximise Value
Bromcom's ethos is to provide a 'One-Stop-Shop' approach when it comes to our MIS. We believe that schools want everything to be integrated within the core of the MIS, so you don't have to jump between applications, manage data transfers and so on.
We've designed a system where parents can logon to a portal to see real-time information about their pupil and book a place on the basketball club. Teachers can track assessments at statement level, message parents, set homework and create google classrooms. Admin staff can automate reports, manage safeguarding issues and administrate wraparound care.
Not only is it more straightforward to have everything in one place, but it's also more cost efficient. Imagine totting up the cost every single bit of bolt-on software your trust is using, then taking into account all of the administration and troubleshooting involved to keep it all running. Some of our Trusts have saved hundreds of thousands simply by ditching these bolt-ons and using Bromcom's native functionality.
That's not to say we don't advocate keeping the software you love, you'll be glad to hear that we partner with a wide range of providers and seamlessly link to all the main data transfer providers such as Wonde and Groupcall.
Integrated Finance
Seeing as the bulk of an average school's budget is spent on staff, it makes sense to have a Finance product that can access your Personnel data. Bromcom Finance is a robust, Cloud-Based school accounting system that is fully integrated with our MIS, making it a truly unique offering in the marketplace.
Rather than having to jump between applications, Finance is accessible within the same interface, just like any other part of the system. As with the MIS, you can drill down into each item and investigate in more detail. Make use of multiple tabs to improve workflow, just like when you're browsing a website.
Cloud-Based
There's nothing worse than finally getting a chance to sit at your computer and finding out the latest MIS upgrade hasn't gone through on your workstation. When it comes to Bromcom, all our software is cloud based so you can securely access information from anywhere, on virtually any device with a web browser.
There's no server to procure, no upgrades to manage, it's all provided as part of our core service to schools. Bromcom MIS moved to the cloud over ten years ago so we know a thing or two about running a reliable online service.
We've also got a range of apps for teachers, students and parents which offers a whole host of functionality on the go. It's great for logging attendance when you're loading pupils onto the bus for a school trip or recording a behaviour incident in the playground.
Google & Microsoft Integration
Bromcom integrates with a range of partners such as Google and Microsoft, allowing you to automatically generate student and staff accounts, Google classrooms, Microsoft Teams and even synchronise calendars. You can also use your Microsoft or Google accounts to login to Bromcom products, creating that seamless, single sign-on approach.
Our most popular integration is the use of Microsoft Power BI, a powerful dashboard designer that allows schools to create entirely bespoke views of their school or MAT and present it within the Bromcom interface.
Working in Partnership
Throughout your contract, you'll have a named contact to assist at Trust level. Their aim is to help you deliver the best educational outcomes for your pupils. Whether that's through the implementation of MAT-wide analytics and reporting, standardisation of procedures or helping you to scale up for more capacity, the MAT Relationship Manager is there to facilitate.
Intrigued?
Changing MIS can feel like a daunting process, but we'll take you through all of the options and show you just how straightforward it can be. To gain a greater understanding of how Bromcom can support your Trust, we highly recommend getting in touch with a member of our team so we can explore your requirements in more detail.
Categories
Assessment services
Learning Management Systems
Distance Learning
Achievement Monitoring
VLE - Virtual Learning Environments
Data Management & Storage
Attendance Management
Managing Information Systems
Security & Risk Management
Connectivity & Communication solutions
Leadership & Management
School Administration/ Management