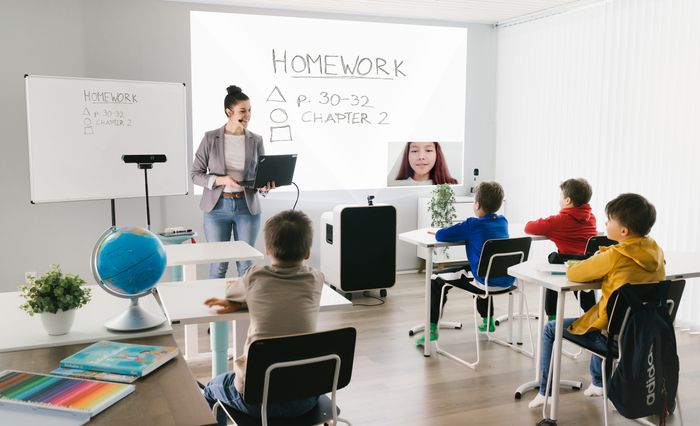 Valuable studying time can be lost when using non-efficient communication technology. Flexible and easy-to-use solutions are desperately needed in order to enable dynamic learning environments. One of the most important things is the display size readability in a classroom. Research* shows 58% of students in an average classroom cannot read content on a 70-inch flat panel, so size does matter.
Artome M10 is a new innovation that offers an installation-free solution that combines Scandinavian design and audio-visual technology as it holds a sound system and an integrated ultra-short throw laser projector. It supports hybrid education with a plug-and-play videoconferencing solution and is easy to move from space to space with adaptable image size up to 150" (330cm width). When combining the fully movable audio-visual technology to flexible classrooms, it is possible to transform any space making it suitable for presenting, learning and much more.
Together Welltek and Artome share the ideology of creating spaces for learning in a sustainable way, bringing flexibility to schools, colleges, and other educational settings across the UK.
Categories
Furniture
AV and Multimedia
VLE - Virtual Learning Environments