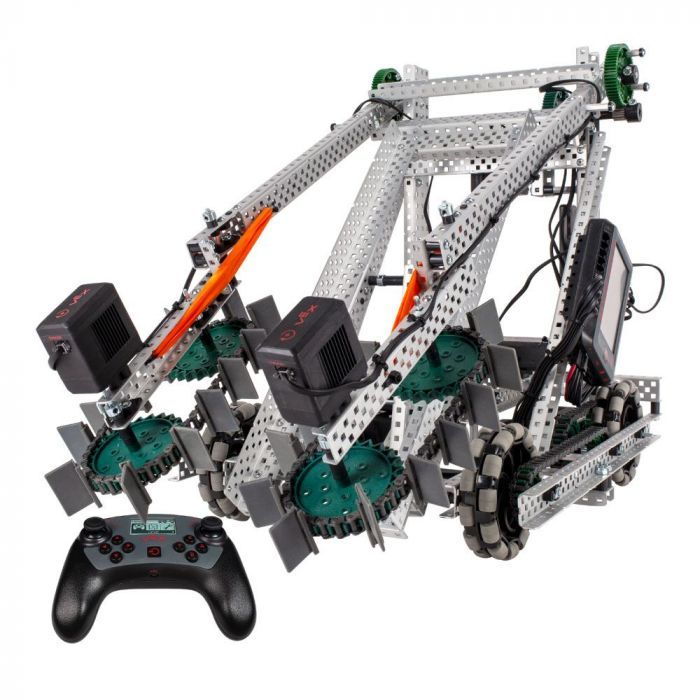 Competitions Bring STEM Skills to Life
All students are natural scientists and engineers. They love to question, tinker, experiment and play. VEX competitions foster these skills and capitalise on the motivational effects of these competitions. Robotics also helps all students create an identity as a STEM learner. VEX competitions are a great way to expose students to valuable soft skills like communication, collaboration and time-management in a fun and authentic way. The VEX Robotics Competition prepares students to become future innovators with 95% of participants reporting an increased interest in STEM subject areas and pursuing STEM-related careers.
The VEX V5 system includes versatile elements that take the frustration out of engineering for novice users, while still providing experienced users with endless design possibilities.
Metal Construction- Using metal parts assembled with nuts and screws, VEX V5 offers a real-world engineering solution
Powerful Electronics - With a colour touch screen and a huge array of sensors, VEX V5 is powerful yet accessible with simple connections and configurations
Coding for Everyone - VEXcode V5 allows students to code in Scratch Blocks, Python and C++. For students wanting to go a step further, the VEXcode V5 Pro software uses the Monaco editor and C++ to give an authentic programming experience.
Categories
Hardware
Coding
Educational/Instructional Software
Learning Materials
Robotics