17 Nov 2021
Work Smarter, Not Harder!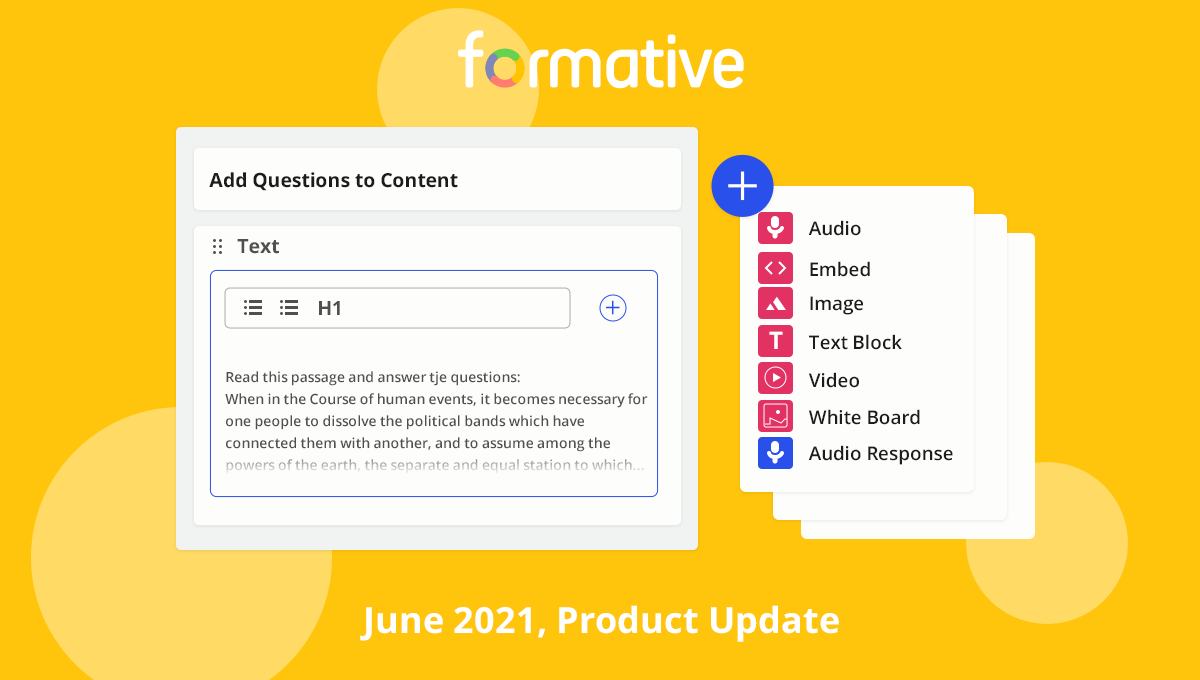 Read the full update with gifs & images here: https://www.formative.com/update/work-smarter-not-harder
The Good Stuff
Whether you're moving around questions, or you just want to know how many points your formative is worth, these updates will help you stay on top of everything! Let what matters most take center stage: your students' learning.
Point Totals in Formative
The total number of points assigned now show at the bottom of a formative. This total will update as you add questions, remove questions, change point values, and adjust rubrics.
31 New Subject Areas
To better reflect our teachers and students, we've added 31 subject areas, including new branches of math, science, and - since Formative is used all over the world! - more specialized languages, too! Check them out in the Classes tab by editing an existing class or by adding a new one!
Team Tracker Improvements
Administrators can now see teacher data under their school org in the Team Tracker. It's never been easier to view side-by-side Teacher Data!
Videos Pause for Questions
When a student is watching a video with questions attached, the video will now automatically pause when it reaches the question time-stamp. As such, students can focus on answering the question before continuing the video.
Note: students still have the ability to pause and rewind the video on their own.
Move Standalone Questions to Content
Have a question that you'd like to group with an image or .pdf file? Simply click the "Move" option in the triple dot menu. Then click on the image. If there are existing questions attached, you can also move the question before or after those pre-existing ones.
Join Codes in Teacher-Paced Lessons
Formative members can now directly access join instructions - including join codes and links - in a Teacher-Paced Mode tab by clicking the "Share" icon.
Edit After Grading Notifications
Keep track of student work! Teachers will now receive a notification in the Formative bell icon if a student edits a response after the teacher has graded it.
Single Question View
To increase focus on individual questions and to avoid confusion, teachers can now assign formatives that show one question at a time. Students taking these types of formatives will control when to move from one question to the next.