09 Feb 2022
NetSupport Radio, the official broadcaster of Bett 2022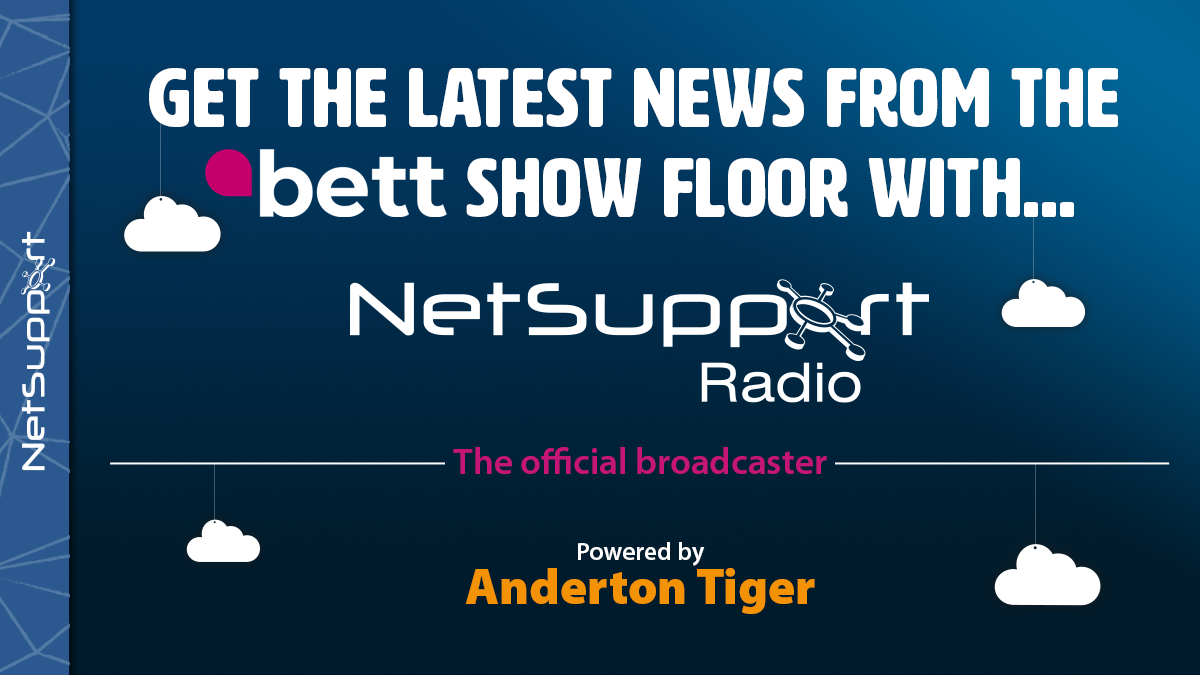 Get the latest news from the show floor with NetSupport Radio, the official broadcaster of Bett 2022
NetSupport Radio (Part of NetSupport, the global experts in School IT solutions), has been chosen to be the official broadcaster of Bett 2022 (23-25th March 2022), the world's biggest EdTech show for the global education community to explore cutting-edge education technology.
Providing an interactive forum for visitors to explore, debate and reflect on the show's 'create the future' theme, NetSupport Radio will broadcast an engaging and informative mix of interviews, analysis and debate on the biggest issues in education throughout the show.
Powered by Anderton Tiger Broadcasting and hosted by Bett legend and schools radio broadcaster Russell Prue, attendees can get involved by sharing their 'best of Bett' thoughts via Twitter using #NetSupportRadio and #Bett2022 throughout the three days. Show attendees are also encouraged to visit the radio station at stand SK51 for a chance to feature on the show. For those unable to attend in person, NetSupport Radio is providing a real-time stream of all the activity happening at the radio station.
Broadcasting daily at 3pm throughout Bett 2022, anyone can download the NetSupport Radio app to their smartphone to listen live or listen back to the daily Bett broadcasts. The app also features regular podcasts throughout the year.
The educators, leaders, and EdTech pioneers featuring on NetSupport Radio 2022 include:
Lord Jim Knight
Zoe Lewis
James Wells
Al Kingsley
Martin Bailey
Commenting on plans for this years' NetSupport Radio at Bett 2022, Al Kingsley, NetSupport CEO, said: "After such a challenging year, Bett is a welcome opportunity for educators and industry to listen, learn and discuss the role technology has in supporting schools to deliver positive impact. We are thrilled to be the official broadcaster of Bett 2022, ensuring there is a channel for everyone to reflect, respond and have their voice heard throughout the show. I'd encourage all from across the sector to listen live, engage on social media and visit the station at stand SK51 to make their contribution – all are welcome!"
Eve Harper, Bett UK Event Director, said:"Bett is the leading global gathering of the EdTech community and giving attendees the chance to hear from some really influential people in the industry, both in the run up to the show and at the show itself, plays a vital part in bringing the community together. We are excited to team up with NetSupport Radio to provide an important space for voices to be heard and for educators to hear direct from experts on the numerous positive opportunities edtech offers."
During Bett the radio show will also host a student takeover with children from Lanchester Endowed Parochial (Controlled) Primary School running the station.
Digital Enrichment Leader, Martin Bailey, said:"I bring my Digital Leader pupils from Lanchester EP Primary School (Co.Durham) to Bett each year and it is always one of the highlights for them to be interviewed by Russell Prue on NetSupport Radio! Parents keenly listen in from home and it's such an amazing 'life skill' for the pupils to have this opportunity and for their interviews to be shared with a worldwide audience. The school and I love listening to the broadcasts and getting insights from a wide range of visitors and presenters."
NetSupport, which has been shortlisted in the Bett Awards 2022 will not only be hosting the official radio station of Bett but will be on hand to offer advice and expertise to schools on effective and impactful edtech solutions and implementation. Stop by and meet author of 'My Secret #EdTech Diary' and Bett speaker, Al Kingsley, and access digital copies of the FREE education magazine 'R.I.S.E.' and 'A Guide to Creating a Digital Strategy in Education'.