NEO LMS now integrates with Amazon Alexa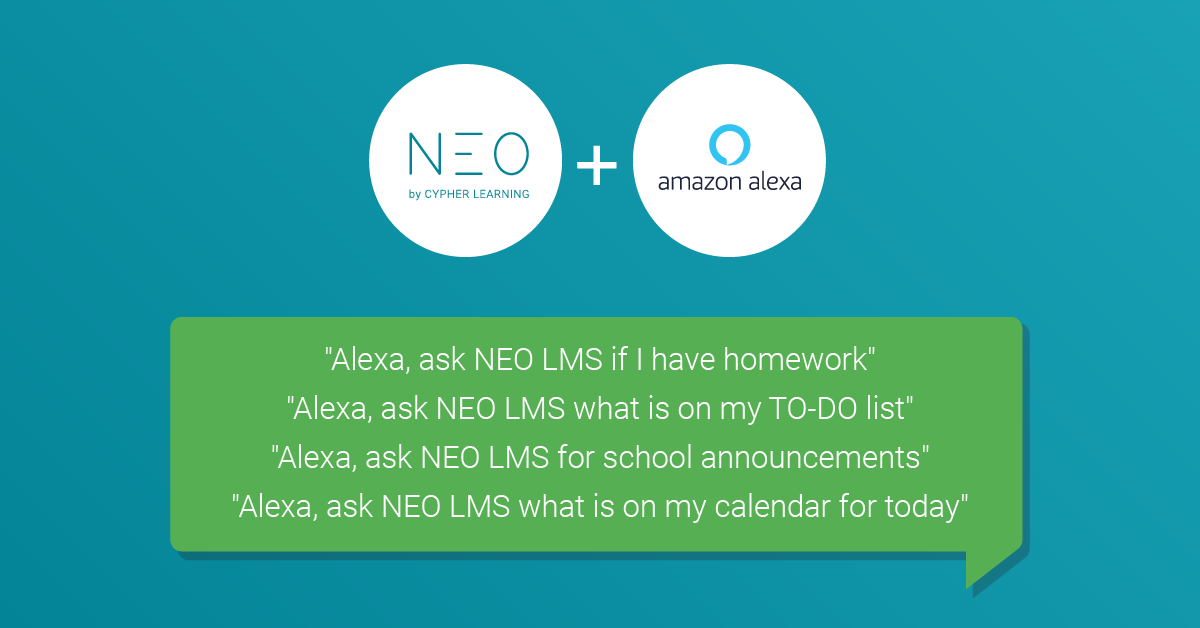 CYPHER LEARNING, provider of best-in-class learning platforms for schools, universities, and organizations worldwide, launches integration with Amazon Alexa for its learning management system (LMS), NEO, for a fun and inclusive educational experience.

NEO LMS supports schools and universities to teach more efficiently and deliver a high-quality learning experience for students. The new Alexa integration will enable administrators, teachers, and students to harness technology and easily access information through simple voice commands. With the impact of Covid-19 being felt globally and many schools and universities still requiring students and teachers to self-isolate, the new feature will ensure that students stay engaged with their studies, and teachers get support with streamlined administrative processes — all in a fun way which aligns with modern lifestyles, regardless of their location.

The voice technology element makes the learning experience more accessible, interactive, and engaging. Students can talk to Alexa and ask questions about their NEO account to help them plan ahead and manage their tasks more efficiently, such as:

"Alexa, ask NEO LMS if I have homework."
"Alexa, ask NEO LMS what's on my TO-DO list."
"Alexa, ask NEO LMS for school announcements."
"Alexa, ask NEO LMS what's on my calendar for today."
"Alexa, ask NEO LMS what are the events for tomorrow."

This feature can also assist learners with special educational needs who find speech more accessible than reading and writing. Students enjoy greater flexibility and control as they take charge of their learning with voice commands.

Alexa will tell users what they need to know based on their NEO accounts information. The Amazon Alexa integration is available for all NEO Free and Premium plans.

Graham Glass, CEO of CYPHER LEARNING, said: "We're always looking for ways to bring innovation to our products by adding cutting-edge, innovative features. We believe that our new integration with Amazon Alexa will enhance the user experience and provide a new and fun way of interacting with NEO."