22 Feb 2022
Meet Niryo, a robotics startup at the Bett show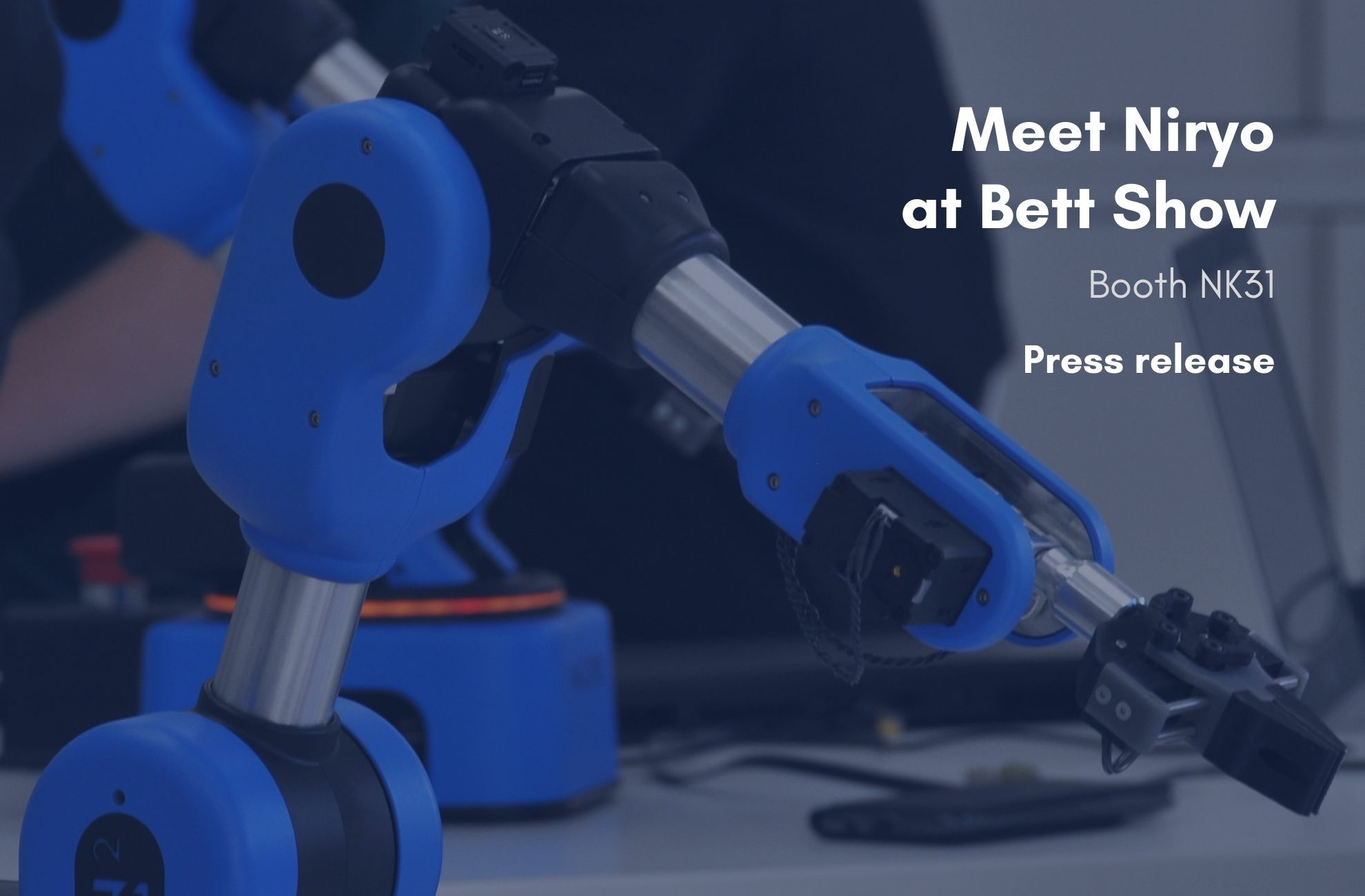 Niryo's team will be showcasing Ned2 on booth NK31 (Bett Hall), providing visitors with an opportunity to discover the functionalities of our brand new robot.
Take this chance to discuss all things robotics learning, research, industry 4.0 and try out Ned2. We will be demonstrating our plans to democratize robotics with accessible cobots both in terms of cost and programming.
Ned2, the robotics arm for education, research, and industry
Who is Ned2, the collaborative robot (cobot) that is going to change the world of automation and process?
The six-axis cobot is based on open-source technologies. As it was thought for education, research, and process automation, we designed Ned2 to be accessible and affordable.
Ned2 key features:
High-performance system: Ned2 is based on Ubuntu 18.04 and ROS Melodic while benefiting from the capabilities of the Raspberry PI 4, a high-performance 64-bit ARM V8 processor and 4gb of RAM.

Improved aesthetics: NED2 is made of plastic injection molded covers, reducing its net weight and improving its robustness.

Easier access to information: a luminous ring is located at the base of the robot, itself equipped with two speakers, making it easier to understand statuses and user warnings thanks to an adaptive sound design.
To learn more about NED2, watch the video: https://niryo.com/Ned2Video
"The use of Niryo's robotic and automation products was seen as a perfect way of introducing a higher level of robotic teaching without the expense of commercial robotic system. Niryo's products has allowed us to equip a laboratory with over 20 robot systems to enable mass teaching of this subject. The wide range of programming options for these robot products has allowed us to provide access to users from many educational levels."
Steve Hill, Head of Applications and IT projects –
Salford University, United Kingdom
Niryo's ambition: contribute to faster deployment of cobotic solutions for Education, Research, and Industry 4.0.
Niryo's team is convinced that robotics will take a central role in the near future. It is thus essential that robotics won't be dedicated to privileged ones but accessible to anyone.
Supporting students in the development of their knowledge in robotics must be a priority. That's why we are offering them solutions tailored to their needs and levels. These solutions give them the opportunity to discover the large spectrum of collaborative or services robotics offer, on their own.
In order to achieve this goal, Niryo creates open-source solutions that allow anyone to program regardless of their skill level.
Creating an open-source solution offers a multitude of possibilities to the users, the different programming languages allowing novices and experts to control the robot with the help of Niryo Studio. Internally, we are working with members who have no specific knowledge in robotics in order to measure the real accessibility of our solutions.
Press contact
Niryo communication service
Marc Louis-Boyard
marketing@niryo.com / +33 (0) 6 03 33 12 12
About Niryo
Niryo is a French company that designs and markets new-generation collaborative robots deployed in robotics solutions for Industry 4.0. The Start-up was founded in 2016 and since then has worked to create the perfect robot for educational purposes. All of Niryo products are built and assembled in their warehouse in Lille (North of France). Niryo now employs over 30 people and has sold 2500 robots in more than 50 countries.