02 Mar 2022
Canva to Inspire Learning with Visual Communication at BETT UK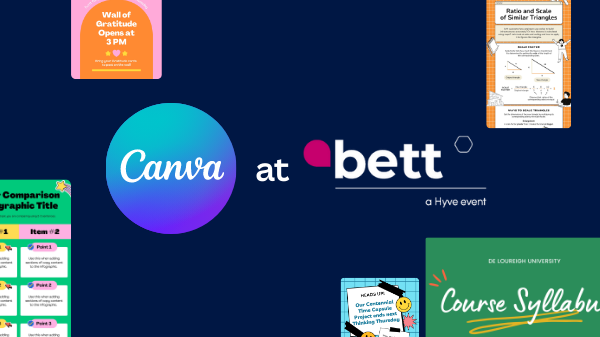 Canva is delighted to announce its return to BETT UK, the most prominent international EdTech exhibition. Over three jam-packed days, Canva will connect with the global education community, sparking ideas to improve outcomes for educators and students. BETT UK has a special place in Canva's hearts. In fact, it announced the launch of Canva For Education, its free offering for all K12 educators during the 2019 conference.
Two years since launching, Canva for Education is embraced by more than 65,000 classrooms across the globe where teachers and students are creating, collaborating and communicating visually in the classroom and beyond.
Empowering educators and students with visual communication
Investing in the future of creativity in the classroom has become a huge global focus – it's one Canva cares deeply about, which is why it makes Canva for Education 100% free for K-12 students and teachers around the world. In the space of two short years, Canva for Education has been empowering millions of students and teachers to embrace visual communication to improve creativity, critical thinking and innovation while supporting learning outcomes. It's transforming how educational content is created and is giving students across the globe a headstart in today's visual economy.
Today, students all around the world are using Canva to create, communicate and demonstrate their learning visually through presentations, posters, comic strips, infographics, and more. Educators and school administrators are creating innovative, supportive and immersive learning environments by designing classroom posters, educational presentations, group projects, newsletters, student certificates, class schedules and other educational resources.
Shaping the future of learning
The theme of BETT this year is "Create the future". The COVID-19 pandemic has presented unprecedented challenges and barriers which have seen educators and communities seek out new ways to solve problems creatively. Although we often associate learning with the hallowed halls of school buildings, transformative education is more of a headspace than a place. Education can happen anywhere; in the classroom or the kitchen table and with the increase in remote learning services, it's become clearer than ever that where you learn matters less than how you're learning.
With schools around the world jumping back and forth between online and in-person environments, parents and teachers are continually looking for learning resources that will meet their needs. Teachers are tasked with delivering dynamic lessons and classroom activities. Parents are trying to keep students on track with their studies and educational growth. Canva for Education offers a wealth of free resources for students of all ages, their parents, teachers, and school and district admins to stay connected. Think educational presentations, posters, group projects, comic strips, storyboards calendars, and much more.
Teachers are sharing visually engaging assignments for students to complete remotely, either individually or collaboratively, empowering students to work together anywhere, any time. They're also recording themselves speaking over their lesson or activity and sharing directly as a video link or file with students. Similarly, students are creating their own videos or recording themselves speaking over their assignments and projects with teachers using digital stickers to share real-time feedback.
Learning gets personal
This period has also seen renewed interest in personalized learning - in particular, the way technology can help deliver a personalized learning experience more effectively and efficiently. Each student is unique, and therefore it's important to customize learning to their strengths, skills and interests. Some students enjoy the interactive nature of group projects and even learn better in groups, whereas more introverted or self-sufficient students might be hesitant to learn this way. Canva for Education addresses the needs of all students, since collaboration can happen in person, virtually, or a combination of both.
In this day and age, communicating visually to keep students engaged has never been more important for teachers. Creativity, design and visual thinking are central to preparing students for the world outside of school and for fostering engagement in the learning that happens in the classroom. Canva is proud to inspire learning through the power of visual communication and collaboration. If you're planning to attend BETT UK (tickets are free!) Canva would love the chance to meet so stop by Booth NG21 in the North Hall. If you can't make it then we invite you to book a meeting with Canva's District Engagement team here to learn more about Canva for Education.
Canva is grateful for the support of the education community and a reminder that Canva for Education is 100% free for all K-12 teachers, students, schools, districts, ministries and school systems.
Written by Jason Wilmot
Jason leads the Education Success team at Canva.