17 Dec 2021
Empathy Week 2022 is building the 'Empathy Generation'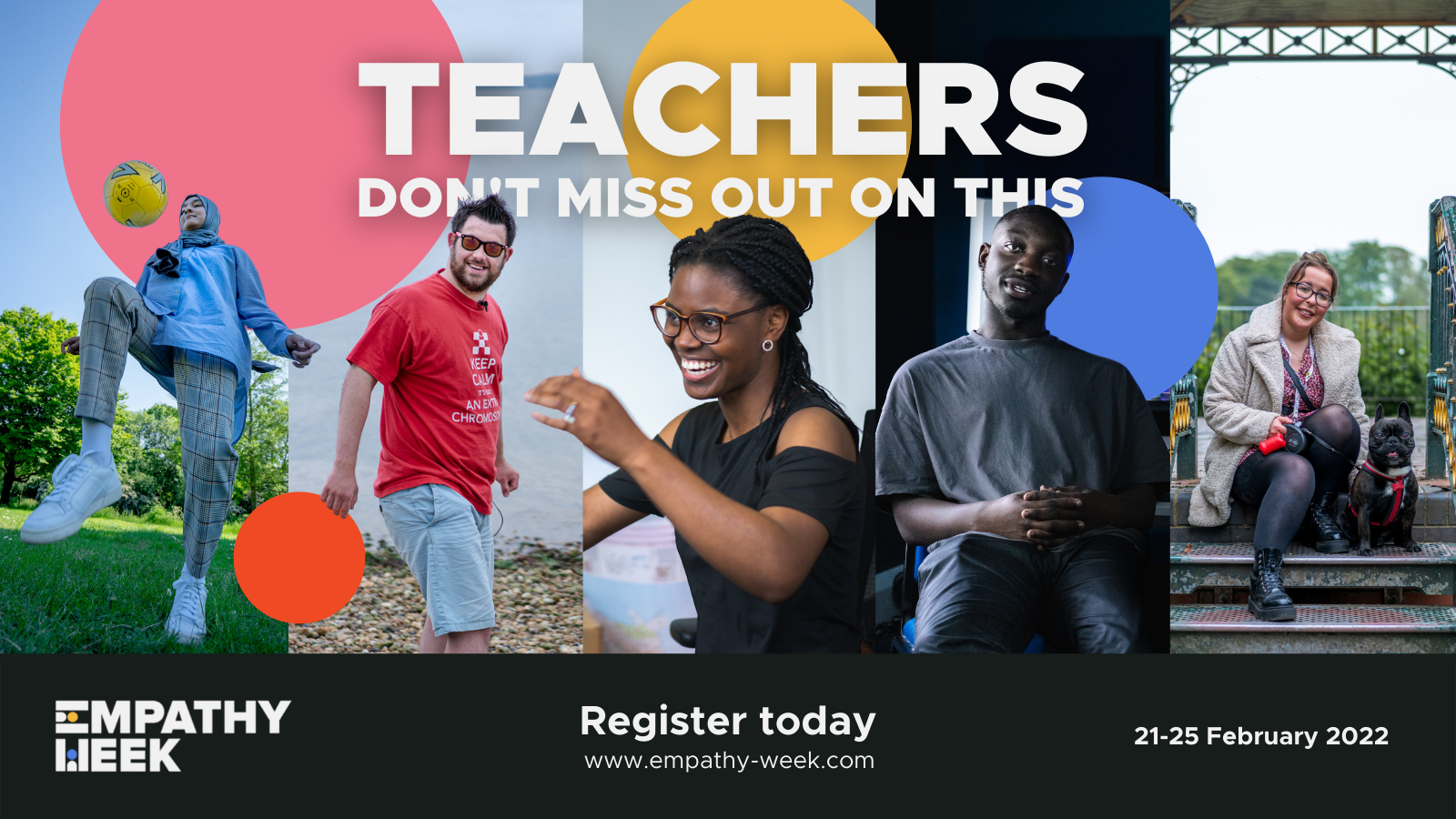 Empathy is needed in our world more than ever, but how do we develop this crucial skill?

Empathy Week is a company and global schools programme doing just that, using the power of film to develop the skill of empathy and leadership in every student each year. Started in 2020 by former teacher Ed Kirwan, the programme has already engaged 100,000 students in over 40 countries and across 6 continents - their mission, to build an #EmpathyGeneration.
The next Empathy Week will take place between 21-25th February 2022. A programme that is designed by qualified UK teachers and made to fit around any timetable and curriculum whilst offering a whole-school approach to developing empathy in the long term. With a series of 5 powerful human films each year, the programme relies heavily on the power of individual stories and beautiful cinematography. This year the theme is 'Passion and Purpose' and focuses on 5 individuals from across the UK. Dami, Lipa, Kwasi, James and Courtney. Their stories are powerful insights into their lives and cover themes such as racism, the power of sport, immigration, resilience, leadership, having Downs Syndrome, gender equality, mental health and more.
Empathy Week serves to upskill students and teachers in empathy, a skill that has been shown to increase creativity and even academic achievement. Crucially, Empathy Week is a whole-school programme that caters for every age from 5 to 18 and includes lesson plans, resources and even an empathy action project which results in the virtual 'Global Empathy Awards' with judges including Gavin Dykes, Director of the Education World Forum, Dr. Melissa Collins, a principal and global top 50 teacher prize finalist and Ger Graus, Global Director of Education for Kidzania.
For more information please refer to our information pack and registration page:
Download our 2022 Schools information pack here.
Register your school here.

Ed Kirwan, founder of Empathy Week, said: "Empathy Week 2022 is shaping up to be the best programme yet. We've learnt a lot in the 2 years we've been running and especially through the pandemic too. Knowing that 100,000 students have engaged with the films and programme even online and over zoom is incredible and the feedback from students and teachers alike is amazing. This is a real opportunity for students to learn about someone else but also be given the opportunity to speak about their own lives and experiences which may be reflected in the films. It truly is an opportunity for empathy to be developed in a number of ways both through the films and discussions that take place"

"Having been a teacher myself, I saw the lack of leadership skills, confidence and perspective in my students. Empathy Week arose from the need to engage young people, empower them and crucial upskill them to become more socially and emotionally intelligent. Empathy is the most important leadership and life skill for us. We've been working with our empathy advisory board and secured partnerships with the likes of Tes, Teach For All and even Snapchat who believe in the valuable importance of our mission. Empathy is the number one skill needed for a 21st century workplace, it's vital that we build this into the educational curriculums across the world rather than it being seen as an additional extra."

Amanda Strachan, Assistant Primary Headteacher at Dubai British School, UAE said "We absolutely loved empathy week and we got lots of thoughtful discussions out of it. The resources and videos were fantastic and really exposed the children to lots of social issues that they might not be exposed to here in Dubai. We also had some lovely feedback from parents that this was then being discussed around the dinner table. We are so excited we're taking part again in 2022!"
Paula Ayton, Primary Headteacher of Reid Street School, UK said "We can't recommend Empathy Week enough to all schools and all ages. Our primary age pupils gained so much through their engagement with the five thought-provoking films and the project we undertook following these. The whole experience has embedded in our practice a real focus on empathy and our children have benefited hugely. Our project was a whole school undertaking and we couldn't be more proud of winning the Empathy Award. We will definitely be involved again this year and going forward and we encourage all to join us."
Registration for Empathy Week 2022 is open to every school across the world, for more information, visit: www.empathy-week.com

Full press pack and graphics to download available at - https://drive.google.com/drive/folders/1EE6DrsL1KlO6kMH4H-7pPbtma-QQF4BY?usp=sharing