08 Mar 2022
Canva for Education: What's New in 2022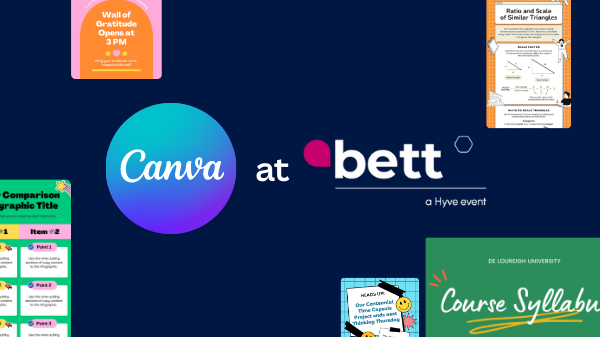 Canva for Education is 100% free for teachers and their students, schools, and school systems. Create the most engaging lessons and fun activities for students in-class or online. Access thousands of ready to use educational resources for any subject or grade and enjoy all of Canva's premium features for free. Help students develop creativity and visual communication skills in a safe space.
Here are some fun things teachers and students are making with Canva for Education:
Engaging teacher and student presentations

Poster projects for Science, English and other subjects

Comic strips, short stories and infographics

Student certificates

Parent newsletters
New features and updates:
Here are some of the exciting new features and announcements we've recently launched for teachers and students.
Four Teacher Favorites:
Video Editor - Teachers and students can make amazing video presentations! Explain a topic, share an update, or simply share your screen! Choose to show yourself or make it a screen recording only, and apply filters and effects. You can also drag and drop your favorite videos from the Canva library, and edit to perfection. Trim, crop, and split videos with ease. Add music to set the mood, or even upload an audio recording as your voice-over. Learn more.

Digital Stickers - Digital stickers are the perfect way to give students quick feedback with a boost of fun!

New Canva video tutorials for teachers and students. Explore all the ways that students can creatively and effortlessly demonstrate their learning with Canva's large range of templates. Discover video tutorials

NEW Educational Templates

Storybook Templates - Our newly launched storybook templates with character builders and resource pages are a fun, engaging, and creative way for students to create their own book! Learn more.

Flipgrid partnership - Try our new collection of Flipgrid backgrounds and frames to customize your Flipgrid videos. View templates.

Wonderopolis partnership - Looking for new ways to engage students? Challenge your students to think outside the box with our Wonderopolis templates. They can design a poster that relates to the Wonder of the Day, a comic strip, and so much more. View templates.

Book Creator partnership - Book Creator is an education site where students can design a digital book. Simply pick a Canva book cover template and customize the fonts, photos, graphics, and more to bring your story cover to life. View templates.

Climate action templates with Lisa Blair - We've joined forces with sailor and climate activist Lisa Blair. She's attempting to break the world record for the first woman to sail solo, non-stop, and unassisted around Antarctica to encourage people to take positive climate action. As part of our partnership, we've developed ready-to-use climate change lesson plans. View templates.
Additional features:
Draw Tool - Use the draw tool to markup a page, sketch or show your work as you solve a math problem. Learn more
Import options - Have a Word document, Powerpoint, or PDF that needs some magic? Now you can easily import Microsoft, OpenOffice, and LibreOffice files into Canva. Just drag and drop your file into the Canva homepage or click Import File in a new design. Once you've imported the file, you're free to customize anything and everything – add engaging animations or graphics, update the content, or play with colors.

Content filters - We've removed 1 million images using machine learning filters to make content more appropriate for K-12 learners.
Did you know entire school systems can sign up for Canva for Education, 100% free? Canva integrates with single-sign on and with your favorite learning management systems including Canvas, Schoology, Google Classroom, Microsoft Teams, Moodle, Blackboard, and more!

"At Canva, we're committed to helping teachers and students reach their full potential, no matter where they are in the world," said Daniella Latham, Senior Product Marketing Manager for Education at Canva. "These new features ensure teachers can empower students to demonstrate their learning, and help them develop critical, future-ready skills such as content creation and visual communication."