11 Mar 2022
BETT Media Pack Robotical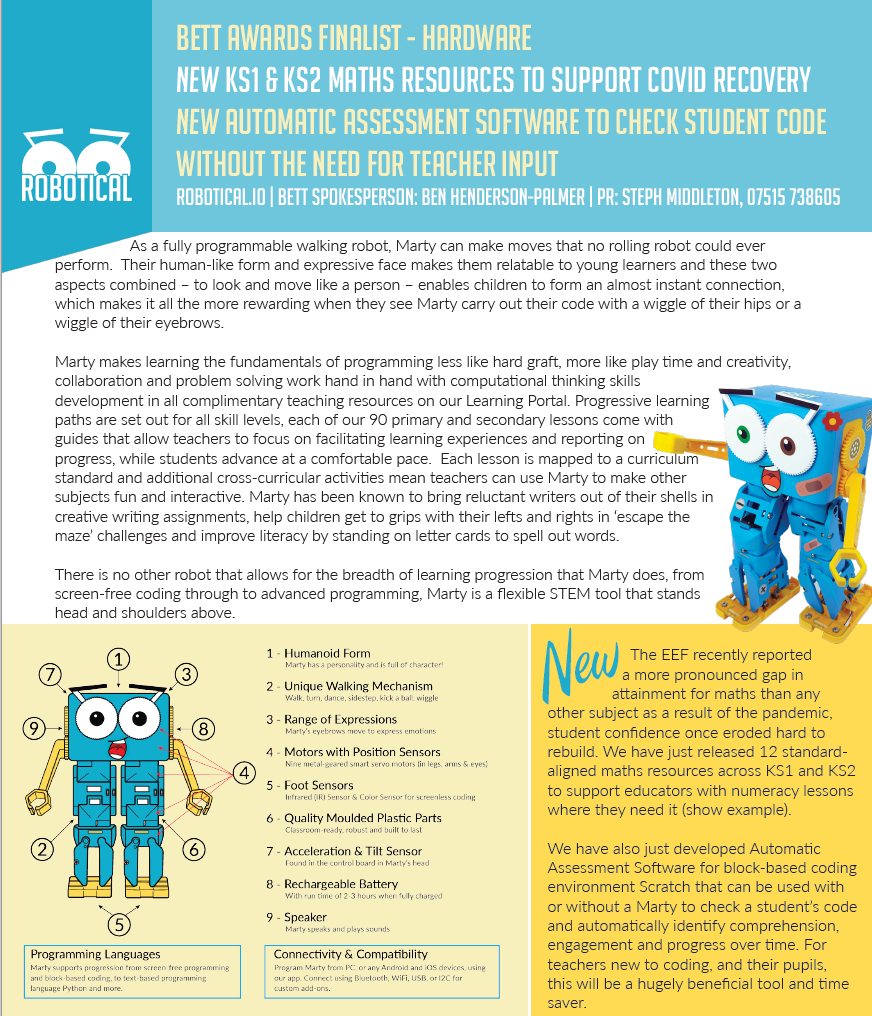 As a fully programmable walking robot, Marty can make moves that no rolling robot could ever perform. Their human-like form and expressive face makes them relatable to young learners and these two aspects combined – to look and move like a person – enables children to form an almost instant connection, which makes it all the more rewarding when they see Marty carry out their code with a wiggle of their hips or a wiggle of their eyebrows.
Marty makes learning the fundamentals of programming less like hard graft, more like play time and creativity, collaboration and problem solving work hand in hand with computational thinking skillsdevelopment in all complimentary teaching resources on our Learning Portal. Progressive learningpaths are set out for all skill levels, each of our 90 primary and secondary lessons come with guides that allow teachers to focus on facilitating learning experiences and reporting onprogress, while students advance at a comfortable pace. Each lesson is mapped to a curriculumstandard and additional cross-curricular activities mean teachers can use Marty to make othersubjects fun and interactive. Marty has been known to bring reluctant writers out of their shells increative writing assignments, help children get to grips with their lefts and rights in 'escape themaze' challenges and improve literacy by standing on letter cards to spell out words.
There is no other robot that allows for the breadth of learning progression that Marty does, fromscreen-free coding through to advanced programming, Marty is a flexible STEM tool that standshead and shoulders above.