15 Dec 2021
Bett 2022: Learn how your school can enhance blended learning with Cloud Box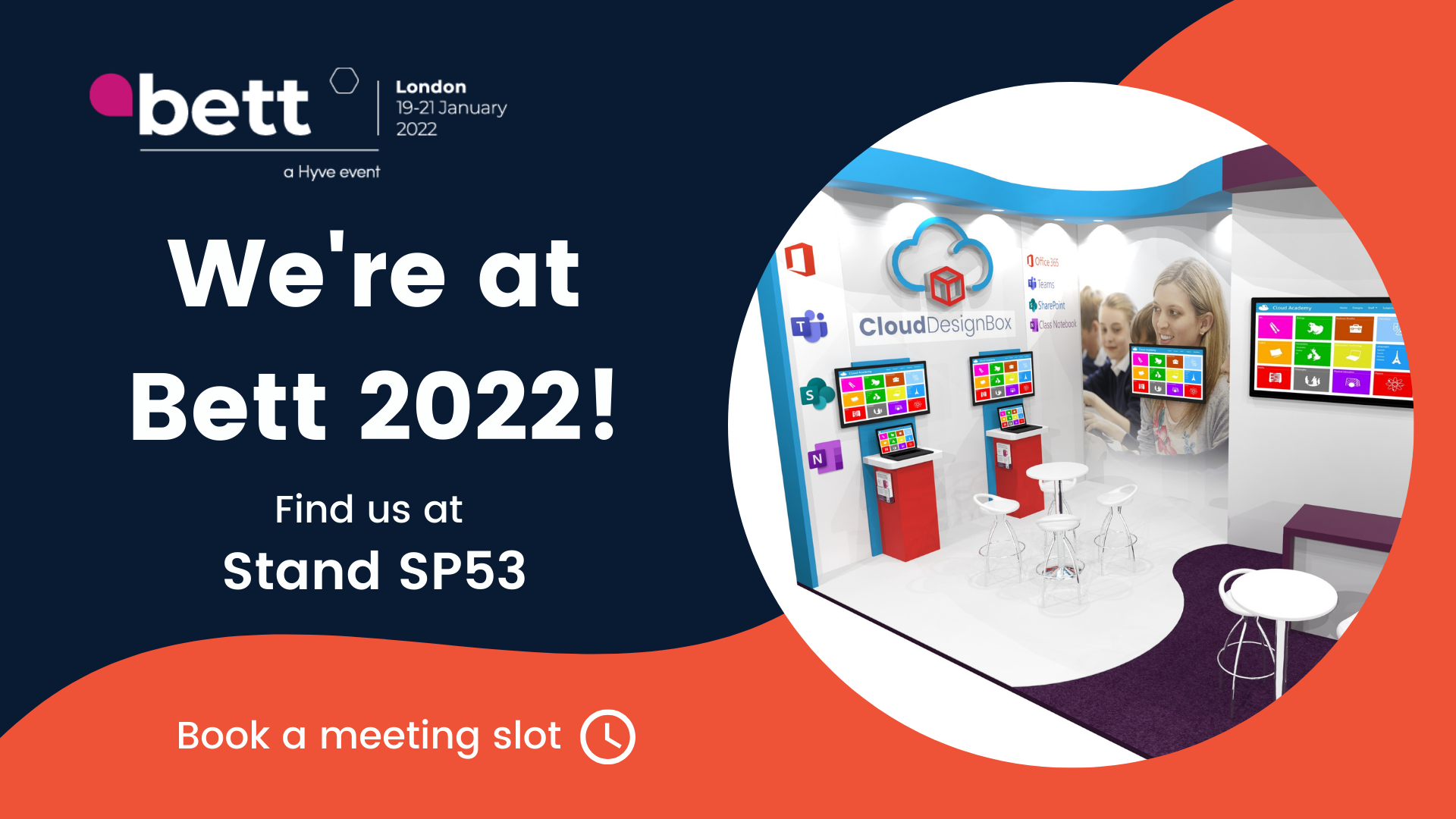 The most prominent international EdTech exhibition is back, and we're thrilled to be a part of it for another year.
You can find us at Stand SP53 - next to our partners SalamanderSoft – where you'll be able to meet our team and talk one-to-one about your blended learning needs as a school or trust.
Cloud Design Box has worked with over 320 schools, academies and multi academy trusts to help them set up, roll out and adopt Microsoft 365, SharePoint and Teams.
"The main challenge schools, academies and multi academy trusts face when rolling out a new technology or platform is user adoption," Tony Phillips, Founder of Cloud Design Box explains.
"Typically, a core group of tech-savvy teachers and staff embrace the new technology, while others are left behind."
This problem with user adoption results in various, separate solutions being used within the school, with learning resources scattered across different places and servers and – ultimately – your school not making the most of the technology it has invested in.
The Cloud Box solution – which the Cloud Design Box team will be demonstrating at Bett 2022 – supports schools and trusts from the initial set up of Microsoft 365 right through to user rollout and trainer-led workshops, followed by additional user adoption support.
Cloud Box equips everyone in your school or trust with the skills and training they need to achieve more with Microsoft.
"By choosing Cloud Design Box, we were able to make a smooth transition to the platform, as well as make navigation and provision of Teams and SharePoint sites easier for teachers to get on board with."
- Learning Technologist at Senior King's, King's School Canterbury
"It is firmly embedded in our long-term digital strategy. We are not only delivering key learning to our young people, but equipping them with essential digital skills that they will need in their future workplaces. I don't want to exaggerate, but I think this is a revolutionary moment for us."
- Headteacher, The Ashcombe School
After months of virtual meetups, it's going to be fantastic meeting you all in person and showing you all the new and exciting things teachers and schools can achieve with Microsoft Teams and SharePoint.
We know many people will want to plan their visit ahead of time and avoid queues, so we've opened meeting slots for you to book a meeting with us at a time that suits you.
Book your meeting - https://forms.office.com/Pages/ResponsePage.aspx?id=VXfGT-PsmUq7KeCo0TW14wLCcoJ58qJGvUvBmUrLBj5URjJISk8xR1JBWVJZOEdPQjM4VVEwQkpaUy4u
Not going to make it to Bett or would feel more comfortable meeting us virtually? No problem, we'll be hosting remote demos the following week. Contact us via www.clouddesignbox.co.uk/contact to enquire.