11 Nov 2021
AcadeMe+ now available for your school!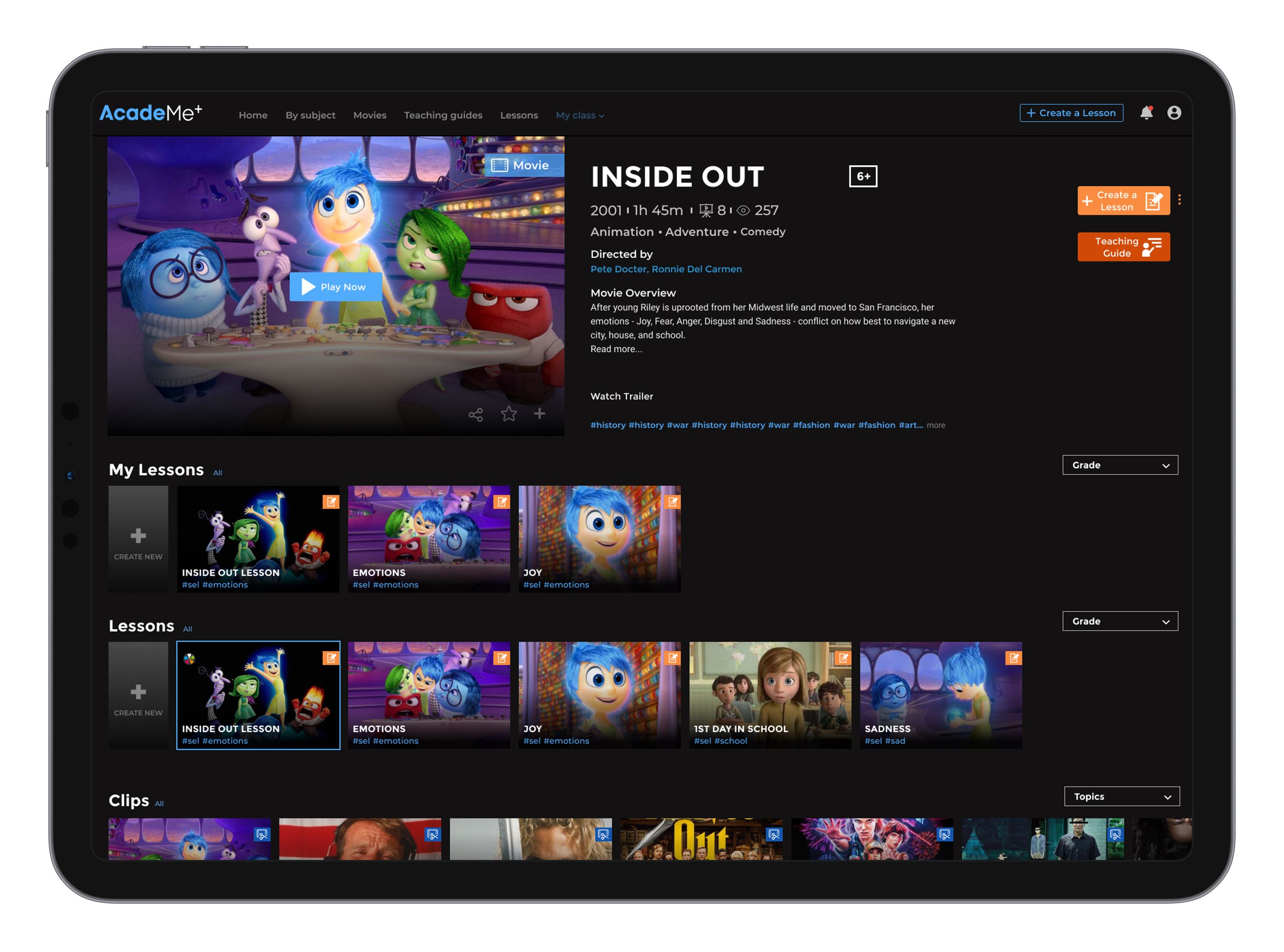 AcadeMe+, The Visual Learning Platform, offers film-based lessons from more than 1,000 of Hollywood's most loved and carefully curated films for K-12 schools and higher education. Serving to enhance student engagement, AcadeMe+ caters to all teachers' needs to deliver film-based lessons, and is now launching its international, curriculum and language customizable, version to benefit teachers and students around the globe.
In a three-year UK research about film usage in class,
over 90% of teachers agree that films generate engagement and increase students' motivation to study.
74% of teachers would like to use films more.
73% of teachers agree that films improve critical thinking and
71% of teachers agree that films improve reading and writing skills.
AcadeMe+ offers over 1,000 renowned, loved, and carefully curated films from major Hollywood studios such as Disney, Pixar, Marvel, Sony, Fox:
Teach SEL using Pixar's "Inside Out", STEM and physics showing "The Martian", Human rights with "The Green Book", environment as featured in "The Day After Tomorrow", or computer programming with "The Imitation Game".
AcadeMe+ Platform caters to all teacher and lesson needs with its innovative features:
Ready-to-use Interactive Lessons – hundreds of curriculum–aligned lessons developed by our pedagogical experts, Journeys in Film, offering questions and quizzes, before, during or after the videos to track students achievements.
Smart Lesson Creator – enabling teachers to easily prepare new lessons or edit existing ones, with an easy drag and drop feature.
A.I. based Search Engine – allowing teachers can search film and clips, tagged by subjects, topics and grades, to use in the lesson.
Student Performance Report – so teachers can comfortably track students' achievements and progress.
Teachers' Community Zone – for teachers to share their created lessons with colleagues worldwide using AcadeMe+.
9 Digital CEO Yuval kalati:
"After the huge success in Israel with over 3,700 schools, we are thrilled to offer AcadMe+ innovative visual learning platform to teachers around the globe. AcadeMe + provides teachers with the opportunity to use film to engage students in meaningful discussions about human rights, environmental issues, global health, STEM, social emotional learning and gender roles, all while meeting today's educational standards".
AcadeMe+ all-in-one Visual Learning Platform serves to enhance teaching and learning globally and bring lessons to the 21st century!
The platform, launched and managed by 9-Digital, has been licensed by the Israeli ministry of education – serving 3,700 schools and 120,000 active registered teachers – since 2019, as well as by leading Israeli universities, and GESS Dubai will be AcadeMe+'s international version launch.
9-Digital, established in 2019, is led by digital entertainment industry veteran Yuval Kalati, bringing two decades of expertise in the OTT and VOD field. 9-digital's vision is to create equitable quality education for today's generation by amplifying the storytelling power of entertainment. 9 Digital's Academe + all-in-one solution, now available globally, is an innovative technology-based platform, offering both the most beloved films worldwide and quality curriculum-aligned pedagogical content – lessons and teaching guides.