01 Nov 2021
4Matrix Press Release: BETT 2022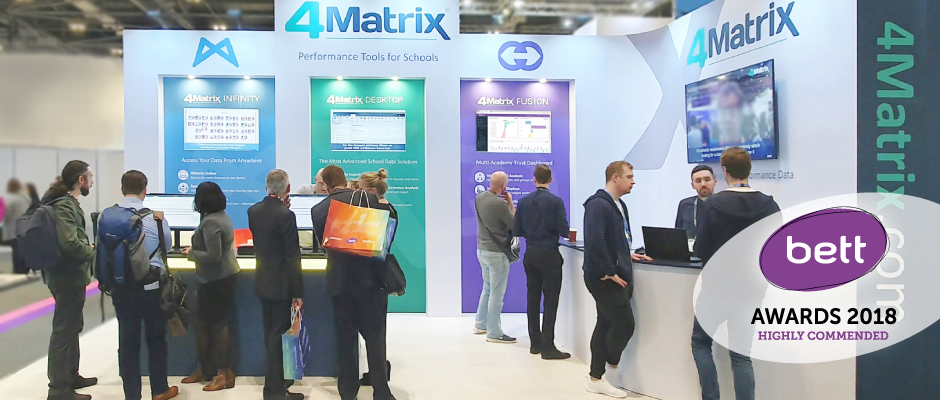 What is 4Matrix?
4Matrix is provided by New Media Learning Ltd, the largest independent data solutions provider to secondary schools in the UK. 4Matrix offers a powerful combination of tools to support both schools and their Trusts in obtaining the maximum value from their performance data.
BETT 2022
We will be showcasing 4Matrix on stand SL60, providing visitors with an opportunity to meet our team, discuss all things performance data and to learn about the new tools and products that we will be developing throughout the coming year.
We'll be demonstrating our plans for 4Matrix Cloud – the next generation 4Matrix, which will combine all our existing products into a single, intuitive cloud-based solution.
Our Solutions
4Matrix Desktop is a School Performance Data System for secondary schools. It is a cost-effective, high-impact application that can process results and produce a range of reports in minutes. It can monitor pupil progress throughout the year, using a range of tools for analysis, forecasting, comparing, researching and reporting.
4Matrix Infinity brings the power of 4Matrix to the web. It is an optional add-on, allowing users to access key features of 4Matrix Desktop, plus a brand-new Seating Plan tool, from any device via all major web-browsers.
4Matrix Fusion is the premier performance analysis system for Multi-Academy Trusts and their schools. It provides a clear picture of school performance across the Trust, reporting on attainment, progress, and subjects. Combining and aggregating data from 4Matrix Desktop and 4Matrix Infinity, 4Matrix Fusion enables Trusts to access timely information from their schools.
Reviews
"Thank you all at 4Matrix - it was the easiest, least stressful and quickest exam results processing in my 8 years as a Data Manager - and I am confident that everything has been reported - unlike previous years with copious formulas in my own Excel sheets.... one HAPPY lady!" – Patcham High School
"4Matrix is a great product. The analyses, graphs and reports are a real strength of the product - helping us to provide the evidence to make informed decisions. The time saved in analysing and reporting progress and attainment has been tremendous." – Farringdon Community School
About Us
4Matrix is a development of New Media Learning Ltd, an education consultancy specialising in school improvement, training, and software development.
Our aim is to make 4Matrix the most comprehensive secondary school performance data solution available at an affordable price. We provide a range of resources for help with getting started and using 4Matrix at no extra cost, through video help, online support, and webinars. As a result of this approach, most of our business comes from recommendation from satisfied users. Our team is small but has a great deal of experience in software development, understanding the complexity of school performance data and providing great customer support.
For more information, please contact us on sales@4Matrix.com.