TechnoPython - Coding Lessons for Beginners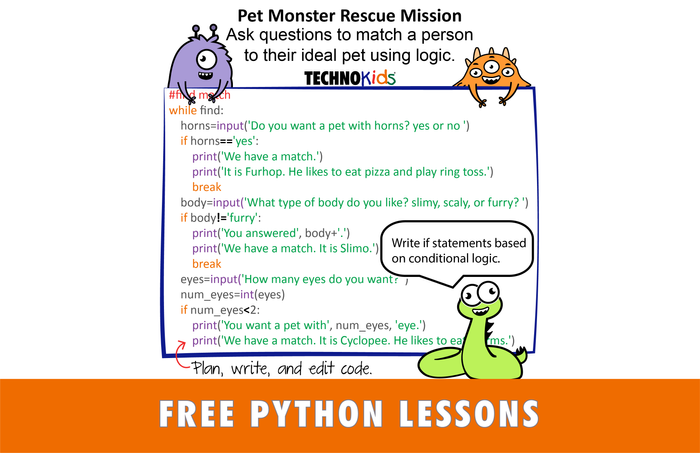 To order TechnoPython visit: https://www.technokids.com/store/middle-school/technopython/python-programming-for-beginners.aspx
---
ABOUT THE FREE LESSONS:
In this set of assignments, students create a program for the Pet Monster Rescue, which is a group that finds loving homes for monsters. To prepare for the programming mission, students learn about strings, integers, and variables. They apply this knowledge to personalize the adoption process.
To pair a pet owner to their monster, the programmers write code that ask questions. The answers are used to match people to their ideal pet. This is done by combining logical operators, if and else statements, and a variable that changes from True to False.
Throughout the four-part mission, an emphasis is placed upon thinking logically, which is an ability every successful programmer needs.
This PDF includes an excerpt from TechnoPython:
Assignment 5: Prepare for the Pet Monster Rescue
Assignment 6: About the Pet Monster Rescue Mission
Assignment 7: Be Logical – Organize Your Ideas
Assignment 8: Build Decision Making into the Code
Session 2 Peer Review: Rescue a Pet Monster
Session 2 Review: About Strings, Integers, and Variables
Session 2 Skill Review: Loop the Questions to Try Again
Session 2 Extension Activity: Open a Pet Monster Picture
Session 2 Extension Activity: Pet Monster Rescue Mission
---
WHY ORDER TECHNOPYTHON?
PYTHON PROGRAMMING ACTIVITIES FOR BEGINNERS: Designed especially for students ages 11 and up, lessons introduce text-based programming with fun, engaging activities.

IGNITE AN INTEREST IN COMPUTER SCIENCE: Complete missions to develop the programming expertise and soft skills valued in a programmer. Foster logical thinking, creativity, and persistence.

PROGRAMMING RESOURCES: TechnoPython includes a digital Teacher Guide and Student Workbook with easy to follow instructions. Worksheets may be printed or used in PDF format. Assessment tools include debugging challenges, peer review, marking sheets, quizzes, and a skill checklist. Tracking sheets and mission certificates recognize progress.

DO MORE THAN COPY LINES OF CODE: Hands-on activities support exploration, discovery, and experimentation. Students gain confidence as they construct their understanding of programming concepts such as variables, loops, and conditionals. Lessons explicitly teach troubleshooting strategies to build independence.