Teaching Computer Science with Construct 3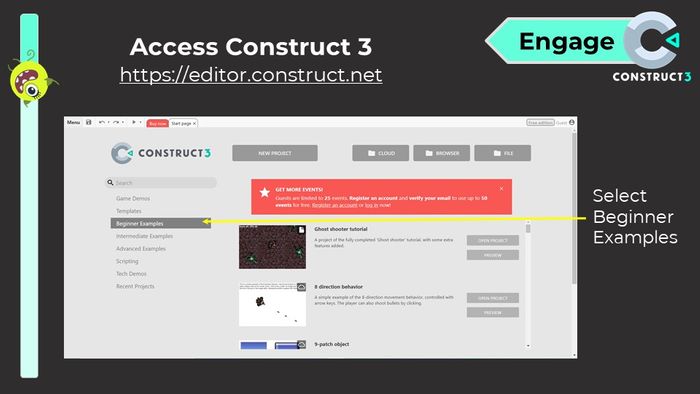 The full package of materials can be downloaded from this page:
https://www.construct.net/en/make-games/education/resources
The following materials to teach an intro course are included:
Lesson Plans - 13 lessons divided into 2 units
Presentation Slides - for class lectures/discussions
Student Worksheets - to reinforce the programming concept
All of these materials are available for use by you in any way you wish, either using them as is or modifying them to create your own customized course. Please note that we do not provide ongoing support for curricular materials, but any comments or suggestions you have will be welcome and may be addressed in future updates. Please direct any comments to education@construct.net.
These curricular materials are aligned to the US CSTA standards (but are easily adaptable to UK Key Stage standards) and are intended for use by teachers who are reasonably confident at teaching programming. Hopefully these will make it easy for you to get started teaching with C3. As with any program of study, you will want to ensure that this curriculum sufficiently aligns yours.
We hope you will find our starter lesson plans useful and that you and your students will enjoy learning Computer Science with Construct 3!